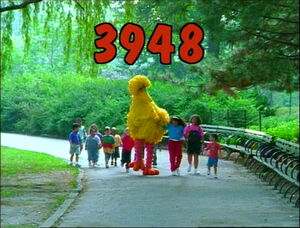 Picture
Segment
Description




SCENE 1
Elmo greets the viewer, then follows the sound of sad meowing. The sounds are coming from Little Murray Sparkles, whose playdate with fellow kitty Mittens McCillicuddy has been cancelled. Elmo claims that if he were a cat, he'd have a playdate with Little Murray Sparkles and starts meowing. The cat perks up and starts meowing too. Elizabeth compliments Elmo's abilities and he realizes he can pretend to be a cat and salvage the playdate. He procures himself a nice cat disguise.

Cartoon
A mouse sings "Felines," a song about emotions, to the tune of "Feelings."
(First: Episode 3278)

Film
Cori's friends come visit and play before her nap.
(First: Episode 3858)

Cartoon
A cat desperately tries to open a can of cat food by himself while his mistress is on the phone.
Artist: Dan Haskett
(EKA: Episode 2424)

SCENE 2
Gordon introduces the letter of the day - C. Elmo and Little Murray Sparkles rush over and cuddle with the letter, illustrating that "C" is for "cat."

Film
"C" for Circle
(First: Episode 3313)

Cartoon
C is for Cat (new music and sound effects added)
Artist: Bud Luckey
(First: Episode 1141)

Song
"Dressed Up" (remake)
(First: Episode 3399)

SCENE 3
The cat playdate has moved to the park. Elizabeth encourages the viewer to join the feline festivities and sings "Doin' the Cat."

Animation
Cats appear in the clouds as Vivaldi music plays.
(First: Episode 3634)




Muppets
Zoe introduces a film of dancers from the Alvin Ailey American Dance Theater dancing to classical music with kids to show that everyone can dance.

Film
18 glasses, 18 chairs, 18 socks
(First: Episode 3710)

Cartoon
An alien runs 18 laps around Saturn's rings.
(First: Episode 3681)

Film
Kid mural painting #18.
(First: Episode 3582)

Cartoon
A boy imagines his room turning into a jungle.
Artist: Karen Aqua
(First: Episode 2808)




SCENE 4
Elizabeth leaves the cats so she can grab some lunch from Hooper's Store. Big Bird and the Birdketeers pass through and remind Elmo that he was supposed to join their meeting today. Elmo is about to leave, but realizes he'll wind up leaving Little Murray Sparkles alone and sad. Big Bird allows them both to attend the meeting. Elmo and the kitten receive their Birdketeer outfits and everyone sings "The Alphabet Song," then again in "meow."

Film
What sound does a cat make?
(First: Episode 3414)

Cartoon
In a painting, a man flips a coin, and it flies in and out of buildings.
(First: Episode 3291)

Muppets
Worms in Space make the letter C.
(First: Episode 3739)

Film
Kid jungle explorers find a wild letter C.
(First: Episode 3519)

Cartoon
Suzie Kabloozie sings "Every Kitty Sleeps."
(First: Episode 3860)




SCENE 5
Back in the park, Telly and Baby Bear find Elmo and remind him they're supposed to be playing as the 3 Furry Friends today. Elmo suggests they let Little Murray Sparkles, who is also furry, join, making them 4 Furry Friends. Baby Bear gets an idea and drags Telly off to dresses them both as cats. Elmo teaches them how to act like a cat by reprising "Doin' the Cat." Elizabeth arrives and is amazed to see how many cats their playdate is attracting.

Film
A boy signs the word cat, and morphs into one.
(First: Episode 3323)

Animation
Characters on a quilt form the number 18.
Artist: Karen Aqua
(First: Episode 3778)

Animation
Growing Numbers #18
(First: Episode 2933)

Cartoon
Everything you need to know about cats.
Artist: Bruce Cayard
(First: Episode 1179)

Muppets
Ernie and Bert: Bert is trying to read his book when Ernie starts singing a song about addition. As Ernie sings, he's joined by Cookie Monster and Grover, some cows, an elephant, and a Martian. At the end of the song, Ernie leaves Bert with a room full of singing monsters and animals.
(First: Episode 3846)

Cartoon
A boy finds a set of doors with animals that make the wrong sound, and swaps the doors to correct them.
(First: Episode 2711)




SCENE 6
As the pretend cats chase their tails, Elizabeth adds up all the cats they have together. She then informs Little Murray Sparkles that it's time to go home, disheartening the kitty. She assures Little Murray Sparkles that he can revisit the memories of the playdate when he's feeling sad. She begins to sing "Remember" (spoofing "Memory" from Cats), as a chorus of felines of all shapes and sizes joins in.

Muppets
Elmo's World: Pets
(First: Episode 3918)

SCENE 7
Telly and Baby Bear continue to play cat while Gordon announces the sponsors.
Community content is available under
CC-BY-SA
unless otherwise noted.