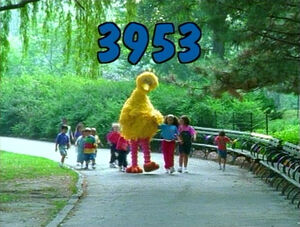 Picture
Segment
Description




SCENE 1
Alan welcomes the viewer to Sesame Street. He serves breakfast to The Count, who counts the items on his plate. Baby Bear is in awe of the way The Count counts, and wants to learn to count just like him. The Count agrees to be Baby Bear's counting coach, as soon as he finishes his breakfast.

Song
"You Don't Have to Be a Grizzly" ...to eat some honey!
(First: Episode 3398)

Muppets
Elmo asks Dorothy what the number of the day is.
(First: Episode 3907)

Video
Three kids dance in three columns.
(First: Episode 3167)




Film
Number Three Ball Film: A red ball follows a rollercoaster-like track through checkpoints (each, a set of three) that are counted in voiceover. At the end, the ball turns into a cherry which is devoured by a girl.
(First: Episode 0744)

Cartoon
Three computer animated fish.
(First: Episode 2792)

SCENE 2
Baby Bear and the Count go to the arbor and talk to Gina, who's playing with Hannah. The Count gives Baby Bear his first test – to count Hannah. Baby Bear counts one Hannah, but the Count tells him there's more to count. He then counts all of Hannah's body parts to show Baby Bear how to properly count someone.

Song
14 Karat Soul sings "Hand Talk."
(First: Episode 2622)

Muppets
Next, Dorothy wants to see an alphabet segment, so Elmo shows her one ...
(First: Episode 3907)

Cartoon
Two girls sing a reggae rendition of the alphabet.
(First: Episode 3269)

Film
Kids observe different kinds of bugs and flowers.
(First: Episode 3696)

SCENE 3
Baby Bear and The Count go to the garden so Baby Bear can do another test – counting Stinky's body parts. Stinky is thrilled that they're counting him since he's never been counted before. He enjoys it so much that when Baby Bear is over, he grows another leaf to be counted a little longer.

Animation
Jerry Nelson sings "Two Pretty Flowers."
(First: Episode 3151)

Muppets
Elmo hears from Dorothy that she wants to see the letter of the day.
(First: Episode 3887)

Cartoon
Pencil box: Y/y
(First: Episode 3043)

Film
A giant Y emerges from a pool. (''Jaws'' parody)
(First: Episode 3323)

Animation
Characters on a quilt form the letter Y.
Artist: Karen Aqua
(First: Episode 3381)

SCENE 4
(insert)
Gina and Hannah show up and down.

Cartoon
"Up and Down with Captain Brown"
(First: Episode 2493)

Muppets
Kermit tries to talk about subtraction with the numbers 1, 2, 3, 4 and 5, but they keep disappearing one by one, which makes it hard for him ... or does it?
(First: Episode 1950)




Animation
Beads arrange themselves into different groups and finally become a girl's necklace.
(First: Episode 3108)

Muppets
Worms in Space make the Letter Y.
(First: Episode 3778)

Film
Y for yell, yellow and yodel
(First: Episode 3456)

SCENE 5
Oscar has his trash piled up on his trash can. Baby Bear and the Count ask if they can count his trash, but he refuses. They keep asking him, but unbeknownst to Oscar, they're counting the times he says "no".

Song
"Count Me In"
(First: Episode 3738)

Muppets
Elmo says Dorothy will tell us when it's time to count.
(First: Episode 3887)

Cartoon
Ball-dribbling characters count the feet on a wall ruler.
Artist: Bill Davis
(First: Episode 3227)

Celebrity
Cassandra Wilson sings "Reach Your Hand Up High" to some kids.
(First: Episode 3901)

Animation
Camels appear in the clouds as Vivaldi music plays.
(First: Episode 3624)

Muppets
Ernie and Bert: Bert is trying to read his book when Ernie starts singing a song about addition. As Ernie sings, he's joined by Cookie Monster and Grover, some cows, an elephant, and a Martian. At the end of the song, Ernie leaves Bert with a room full of singing monsters and animals.
(First: Episode 3846)

Cartoon
African quilt pattern #2
(First: Episode 3134)

SCENE 6
As they walk down the street, they discover a number 3. Baby Bear says it's up to them to talk about it, but The Count doesn't like to talk about the number 3 since not many things come in threes. Baby Bear takes him to a place where everything comes in threes.

Cartoon
Bud the Bird flies above and below in a bumper car.
Artist: Lisa Crafts
(First: Episode 2901)

Muppets
Elmo finds out that Dorothy wants to hear a song.
(First: Episode 3907)

Song
"It's Number Three!"
(First: Episode 3136)

SCENE 7
They arrive at Baby Bear's cottage where The Three Bears sing a song showing all of the three kinds of stuff they have. The Count tells Baby Bear he was "one wonderful student" and they both share his trademark laugh.

Muppets
Elmo's World: Babies
(First: Episode 3854)




SCENE 8
Baby Bear and The Count announce the sponsors and sign off.
External links
Community content is available under
CC-BY-SA
unless otherwise noted.