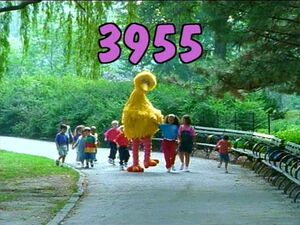 Picture
Segment
Description




SCENE 1
Luis watches over some kids doing drawings in the arbor, with Humphrey, Ingrid and Natasha observing nearby. Natasha shows interest in drawing too, so Luis gives her a crayon and paper. She immediately starts scribbling all over it. Her parents begin to fawn over the picture, boasting that she's a natural artist. They interpret her squiggles as a drawing of Luis riding a turtle. They interpret her second piece the same way, but the third one depicts Luis riding a cow instead.

Film
Kids display their art.
(First: Episode 3924)

Film
Paper crumples to reveal G, g, and Gg.
(First: Episode 3128)

Song
"Big G and Little G"
(First: Episode 3397)

Animation
Pencil box G / g
(First: Episode 3042)

SCENE 2
Natasha scribbles furiously some more, as her parents have hung up all her artwork. Big Bird happens by and is able to understand the images just as well as her parents, to Luis' surprise. Humphrey and Ingrid don't agree over what one picture is supposed to be and realize they're having an argument. Luis quells their concerns by explaining how art is open to interpretation.

Cartoon
Parts of a face are drawn in black on-screen before forming a picture.
(First: Episode 3320)

Film
Wegman's dogs: Battina poses for a painting.
(First: Episode 3924)

Cartoon
Seven Starfish (Maria voiceover added)
Artist: Owe Gustafson
(First: Episode 1473)

Film
Seven kids dance on a playground to the same beat.
(First: Episode 3844)

Cartoon
Rap #7
(First: Episode 2506)




SCENE 3
The monster family witnesses the Monster Clubhouse gang running past, being chased by the Elephant. Humphrey calls the Elephant over to be the subject of Natasha's next piece. The Elephant is flattered and agrees, but Natasha doesn't care for any of his chosen poses. Humphrey believes she wants to draw him chasing monsters, but all the others have already gone off to the clubhouse. Instead, he chases Humphrey and Ingrid around until he leaves to attend his club meeting. Humphrey pretends to be an elephant to chase Ingrid around now.




Muppets
Monster Clubhouse
The monsters read the previous meeting's minutes and dance the Honk Your Nose, Touch Your Toes, Spin Around And Strike A Pose Dance. After naptime, the Snack of the Day is a huge salami sandwich. A Lavender Anything Muppet, performed by Jerry Nelson, arrives looking for the Club for People Who Like To Pretend They're Seagulls. The Furry Feeling of the Day is Angry. After another naptime, the gang gets chased by an elephant. In the mail, a girl wants to know "How do monsters hug?"

SCENE 4
The Elephant returns to Sesame Street, where he's told Natasha wants him to be her subject once again. After the club meeting, he's not in the mood to chase any more monsters. Instead, Humphrey and Ingrid chase him!

Cartoon
Cavemen observe and make their own cave paintings.
Artist: Fred Garbers

Film
G for go, girls, guitar, goldfish etc.
(First: Episode 3269)

Cartoon
A goose and gander visit the land of the G's.
Artist: Jeff Hale
(First: Episode 1141)

Muppets
Ernie's Show and Tell
Sidney shows Ernie a drawing she made of some of her friends.

Film
Milo Counting: 7
(First: Episode 3595)

Cartoon
The Alligator King
Artist: Bud Luckey
(First: Episode 0411)

Muppets
Hero Guy
Hero Guy and Baby Bear ride a pirate ship, but Baby Bear forgot to draw the water. Fortunately, Hero Guy's tears make the water.

Animation
A mother and daughter walk through a park. After coming home, the child draws a picture of the things she saw there.

Muppets / Celebrity
Angel Corella dances the Ballet Alphabet, while Telly, Zoe and Elmo name the letters. (edited)
(First: Episode 3785)

Muppets
Elmo's World: Drawing
(First: Episode 3859)




SCENE 5
Humphrey and Ingrid show Luis some of Natasha's latest works, which are her versions of today's sponsors. The Elephant returns to be Natasha's next subject.
External links