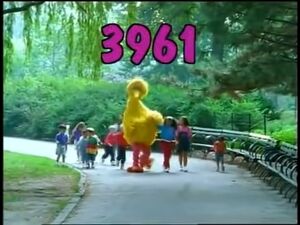 Picture
Segment
Description




SCENE 1
Ernie is outside playing his one-Ernie one-man band, with Rubber Duckie, his drumset and his bugle. Gordon and Susan tell him from the window that he's too loud for the morning. Ernie says that Bert said the same thing, and that's why he went outside. However, it's time to wake up anyway.

Cartoon
Gordon narrates "The Maestro Plays," a story featuring adverbs. (interspersed with kids' comments)
(First: Episode 3579)

Muppets / Celebrity
Diana Krall sings "Everybody's Song" with Elmo and everybody in attendance.

Muppets
Bert asks Bernice how she knows the letter of the day, and they watch this segment ...
(First: Episode 3870)

Cartoon
An airplane skywriter makes the letter Q.
(First: Episode 3906)

Muppets
Worms in Space
The worms make the letter Q.
(First: Episode 3749)

Film
Q, for quack. Quiet!
(First: Episode 3405)




SCENE 2
Ernie plays part of "Dance Myself to Sleep" while Elmo decides to be his own band too. At the same time, he plays "Elmo's Song." (YouTube)

Cartoon
Musicians in a painting learn to cooperate to play music.
(First: Episode 3460)

Song
"It's the Shpritzer Honker Splasher Sprinkler Tweeter Squirt," the wettest musical instrument.
(First: Episode 3408)

Cartoon
Airplanes carve the letter Q.
(First: Episode 3179)

Film
Girls giggle as they clap their way to the letter Q.
(First: Episode 3340)




SCENE 3
Big Bird and Snuffy encounter the two bands, and decide to form a marching band together. Snuffy plays the snuffle, and Big Bird plays the La-Las. Gordon and Susan get confused as they walk by.

Film
William Wegman's dogs conduct and play piano.
(First: Episode 3945)

Muppets
Bert: "Bernice ... you have wonderful form." They watch a segment about the number of the day ...
(First: Episode 3870)

Film
Egyptian #4
(First: Episode 3306)

Film
Four Chinese acrobats do stunts with giant spools.
(First: Episode 3845)

Cartoon
The Quadratic Equations (from the Lunar Lounge) sing about 4 and their four heads.
(First: Episode 3712)

SCENE 4
Rosita brings her guitar to play along, but everyone wants her in their band. She decides she'll take turns.

Cartoon
Animals play in a rock band for the number 4, and sets of 4 things are shown.
(First: Episode 3562)

Film
Four kids dance in a colorblock grid.
(First: Episode 3149)

Cartoon
"Island of Emotion"
Artist: Sally Cruikshank
(First: Episode 2822)

Muppets
Bernice counts to 10 - but has some help from Bert. How did she learn it? By watching the following film...
(First: Episode 3870)

Film
Counting 10 Australian animals.

SCENE 5
Rosita has to quit because taking turns is too tiring. After a while, they all realize that the solution is to be "one band." However, they are still playing different songs. Ernie says they need a little more practice.

Cartoon
A boy learns to play his violin.
(First: Episode 1513)

Film
The Tokyo String Quartet and some kids show how important it is to practice, as Big Bird provides voiceover.
(First: Episode 3290)

Cartoon
A ball goes up and down a musical staircase.
(First: Episode 2151)

Muppets
Bernice and Bert recite the alphabet, although Bernice is slow.
(First: Episode 3902)

Cartoon
Kids and animals alternate in passing letters over themselves, in an alphabet song.
Artist: Karen Aqua
(First: Episode 3740)

SCENE 6
Ernie introduces the band, and they play "Rubber Duckie." Gordon and Susan drop by, and are impressed.

Muppets
Elmo's World: Computers
(First: Episode 3916)

SCENE 7
The band plays the Sesame Street Theme, and Ernie reads the sponsors and announces their next date at Big Bird's nest.
Notes
Community content is available under
CC-BY-SA
unless otherwise noted.