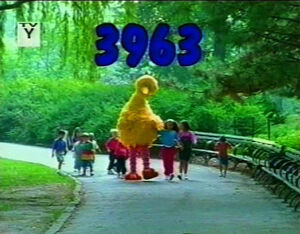 Picture
Segment
Description




SCENE 1
Rosita discovers a meeting of the Grouchketeers and gives Oscar a big hug. Rosita wants to join the Grouchketeers, but Oscar says that she can't join unless she proves that she's grouchy enough. He gives her a list of requirements, the first of which is "No Hugging."

Cartoon
A shy girl wants to join a group bouncing a ball.
Artist: Joanna Priestley
(First: Episode 2849)

Film
Big Bird says that friends are good. Kids talk about saying hello and making friends.
(First: Episode 3927) (sans Big Bird intro)

Cartoon
Ladybugs' Picnic (This is the final airing from the Ladybugs' Picnic segment.)
(First: Episode 0416)

Cartoon
Finding 12s on a computer screen
(First: Episode 3895)

Cartoon
The Bellhop has to make 12 wake-up calls.
(First: Episode 2529)




SCENE 2
Telly finds Rosita having great difficulty with Not Hugging. Sidney offers them cookies, and Gina comes along with her niece Hannah. Rosita struggles with not hugging, and realizes if she can not hug a baby, she can not hug anyone. Next she prepares to "Act Like A Grouch".

Song
"It's a Long Hard Road, But I'm Gonna Get There."
(First: Episode 3398)




Muppets
Natasha competes in the Thpfft Championship, where she wins by Thpfft-ing 20 times.
(First: Episode 3779)

Cartoon
Pencil box I/i
(First: Episode 2890)

Animation
I / i candles
(First: Episode 3107)

Cartoon
CGI sheep graze out I and i.
(First: Episode 2896)




SCENE 3
Rosita, dressed like a Grouch, imagines the smell of trash to help her "Act Like A Grouch." Telly coaches her on her "SCRAM."

Film
A karate team punches out the alphabet.
(First: Episode 3447)

Film
Big Bird dances, and the kids talk about how fun it is to dance.
(First: Episode 3946) (without Big Bird intro)




Muppets
Zoe introduces a film of dancers from the Alvin Ailey American Dance Theater dancing to classical music with kids to show that everyone can dance.
(First: Episode 3948)

Cartoon
Pinball Number Count #12
(First: Episode 0985)

Film
Ornate 12s fly through the air.
(First: Episode 3274)

SCENE 4
Gina needs to help Hannah fall asleep. Bob, Maria and Gordon sing a lullaby, but get a little carried away.

Cartoon
Babies and doggies pattern: What comes next?
Artist: Keith Haring
(First: Episode 3039)

Animation
Ornate Is swing through the air to a song.
(First: Episode 2921)

Animation
I / i Gregorian Chant
(First: Episode 3342)

Muppets / Film
Ernie introduces kids singing "Twinkle Twinkle Little Star."

Cartoon
A man counts 40 stars at night.
(First: Episode 2243)




Muppets
Musical Fairy Tale: Little Red Riding Hood and The Big Bad Wolf sing "One Fine Face". The two then leave to play bingo with Grandma.
(First: Episode 3949)

Cartoon
The parts of a man's face move around as they are drawn.
(First: Episode 3410)

SCENE 5
After a full day of work, Oscar still says that she isn't grouchy enough. She blows up at him, telling him off -- which impresses Oscar so much that he makes her a Grouchketeer.

Muppets
Elmo's World: Bananas
(First: Episode 3858)




SCENE 6
The Grouchketeers meet, and Telly interrupts to read the sponsors. They tell him to scram.
Community content is available under
CC-BY-SA
unless otherwise noted.