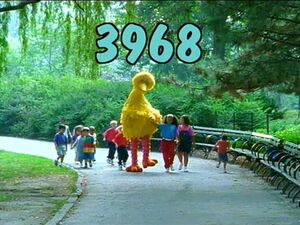 Picture
Segment
Description




SCENE 1
Rosita is in the mood for drawing. Luis becomes the subject of her first piece: "Man Fixing a Toaster." She makes another drawing of Gabi, prompting Luis to remark she should draw everyone on the street. Inspired, Rosita goes to do just that.

Film
A girl talks about painting.

Muppets
Cookie Monster plays a musical guessing game about his drawings.

Cartoon
The Typewriter: J for jump
Artist: Jeff Hale
(First: Episode 0772)

Film
J, for jiggle, juggle, jump, joy.
(First: Episode 3396)

Animation
The story of a jack-o'-lantern.
Artist: Ken Brown and Lisa Crafts
(First: Episode 3950)




SCENE 2
Telly arrives at Hooper's Store, just as Rosita is drawing Alan. She becomes nervous when he invites his whole tuba class to be drawn along with him, so she recruits them to help draw everybody.

Cartoon
Cavemen observe and make their own cave paintings.
Artist: Fred Garbers
(First: Episode 3955)

Muppets
Grover is a jungle photographer. "Hold still, little tsetse fly!" he says as he clicks the shutter. "Thank you. I will send you a print." He tries to find an elephant to photograph, but he never turns around in time. Finally, the elephant takes a picture of Grover for his collection.

Animation
Elephants appear in the clouds as Vivaldi music plays.
(First: Episode 3627)

Muppets / Celebrity
Big Bird and artist Chuck Close appear in a segment in which one of his self-portraits is analyzed by a group of kids in voice over as the camera pans out from the painting.

Cartoon
Different emotions are drawn on a face, until the character grabs the pencil.
(First: Episode 3531)

SCENE 3
Alan provides everyone with some pads and drawing materials and Rosita gives an inspiring speech to get them moving.

Animation
A group of round crayons draws a house, and is hesitant to let a square yellow crayon join, until it draws the sun. They all cooperate to make a rainbow.
(First: Episode 3105)

Film
Ernie introduces a film of kids displaying their art.
(First: Episode 3924)

Animation
Number creatures #14
(First: Episode 2712)

Animation
Computer #14
(First: Episode 3881)

Cartoon
"Sing a Song of Fourteen"
(First: Episode 2670)




SCENE 4
Rosita makes a drawing of Gina with the Flying Penguin Brothers, while some kids draw Slimey, Glo Worm and Snuffy.

SCENE 4 cont'd
Telly wants to draw Oscar, who refuses to participate...until Telly considers drawing him with a smile and nice fur.

Animation
A mother and daughter walk through a park. After coming home, the child draws a picture of the things she saw there.
(First: Episode 3955)

Muppets
"Elmo's Rap Alphabet"
(First: Episode 3456)

Film
Wegman's dogs: Battina poses for a painting.
(First: Episode 3924)

Animation
"We Are Kids From Far and Wide": A girl describes the preparation for the Galungan festival in Bali, Indonesia.
(First: Episode 2750)

SCENE 5
Ernie wants to present the number of the day (14), but doesn't have a physical copy of it. Rosita draws him holding a number 14 instead. Ernie then notices the number 14 coming up...

Film
Kid mural painting #14
(First: Episode 3613)

Muppets
Prairie Dawn sings "All By Myself" with the help of the Oinker Sisters.

Animation
Lillian is proud because she climbed a mountain all by herself.
Artist: Craig Bartlett
(First: Episode 2749)

SCENE 6
Big Bird and the Birdketeers provide Rosita with some drawings they've made. Rosita believes everybody has been drawn and brings the drawings to the arbor.

Cartoon
Parts of a face are drawn in black on-screen before forming a picture.
(First: Episode 3320)

Song
"I Put My Leg in My Pants"
(First: Episode 3402)

Animation
Planet J/j
(First: Episode 2833)

Song
"J, Just How Jazzy Can You Get?"
(First: Episode 3396)




SCENE 7
Rosita displays all the drawings on the fence in the arbor. Telly and Big Bird describe some of them (which include Count von Count, Baby Bear, Zoe, Bert, Prairie Dawn, Cookie Monster, and even Mr. Johnson). One such drawing includes Elmo in Elmo's World...

Muppets
Elmo's World: Drawing
(First: Episode 3859)

SCENE 8
Everyone admires Rosita's artwork. She announces the sponsors and draws them on her pad.
Community content is available under
CC-BY-SA
unless otherwise noted.