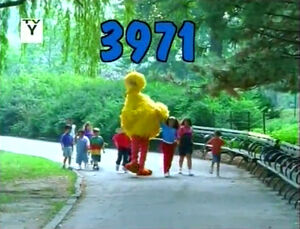 Picture
Segment
Description

SCENE 1
Stinky the Stinkweed sits out on Gordon's windowsill, getting his water. Big Bird passes by and uses Stinky in a demonstration of big and little. Stinky doesn't like being little, and Gordon takes him to find something smaller than him.

Cartoon
A man (Marty Robinson) has a small octopus on his head, but a little boy (Joey Mazzarino) has a big octopus.
Artist: Mo Willems
(First: Episode 3270)

Muppets
Super Grover asks Baby Natasha, as Super Baby, to help him demonstrate big and little. But Super Baby won't sit still long enough -- she keeps flying around, and ends up crash-landing on his head.
(First: Episode 3698)

Cartoon
Suzie Kabloozie introduces an alphabet segment while she chases after Feff.
(First: Episode 3888)

Film
Fireworks Alphabet
(First: Episode 1104)




SCENE 2
Stinky spots a strange creature in the arbor smaller than him, which turns out to be the tail of a large elephant.

Song
Joe Raposo sings "Little Things".
re-filmed version
(First: Episode 2485)

Cartoon
Suzie Kabloozie presents the letter of the day made of fudge, but Feff is too fast for her.
(First: Episode 3854)

Song
"Praise the Letter P, Please, Please, Please" (James Brown style)
(First: Episode 3400)

Cartoon
Peter Panda, the potter, makes a pyramid, a pear and a pot for his plant.
(First: Episode 3537)

Film
Wegman's dogs form a letter P.
(First: Episode 3330)

SCENE 3
Gordon assembles the kids, who bring various items that make Stinky seem big by comparison.

Film
A group of girls do a playground cheer ("Ooh I'm so happy!").
(First: Episode 3017)

Cartoon
Suzie Kabloozie is glad you're here.
(First: Episode 3854)

Muppets / Celebrity
Elmo and Whoopi Goldberg play a duet of "Somebody Come and Play."

Cartoon
Suzie comments, "That was great!"
(First: Episode 3854)

Animation
A man asks kids about zero. (Includes an animated Oscar cameo)

Muppets
Cookie Monster plans to eat the number of cookies to correspond with the number of the day, and he's disappointed to find that the number for the day is zero. He ends up eating the numeral 0 instead.
(First: Episode 3950)

Song
"Zero Song": A female voiceover sings about the food that keeps being taken away to make 0.
Arist: Jane Aaron
(First: Episode 3003)




SCENE 4
Stinky wishes he could actually be big, when his Fairy Godplant (Ruthie) appears. She squirts him with a magic spray bottle, but he becomes smaller instead. She goes to consult her spell book.

Film
Kids observe different kinds of bugs and flowers.
(First: Episode 3696)

Cast
Linda shows a boy how to sign the word imagine.
(First: Episode 3947)

Cartoon
Suzie Kabloozie sings about the things she can imagine herself doing "In My Head."
(First: Episode 3526)

Muppets
Zoe and Wolfgang the Seal explain the concept of zero.
(First: Episode 3386)

Cartoon
A girl asks her friend to guess how many elephants she saw at the zoo today; the answer is zero.
(First: Episode 3609)

SCENE 5
The Fairy Godplant returns with the right spell and Stinky becomes humongous! He sings a song about being so big.

Cartoon
P, for peas
(First: Episode 3485)

Film
The letter P dances at the beach.
(First: Episode 3537)




Muppets / Film
Elmo introduces a clip of a young boy singing a song to his baby sister.
(First: Episode 3923) (without Elmo intro)

Cartoon
Ranger Armbuckle talks about how plants travel -- by sowing their seeds.
Artist: ArtistMike
(First: Episode 2727)

SCENE 6
Stinky wants to stay big, but realizes Gordon won't be able to carry him or fit him on the windowsill. Stinky sees he was the right size all along and requests his Fairy Godplant return him to normal.

Muppets
Elmo's World: Flowers, Plants & Trees
(First: Episode 3895)

SCENE 7
Stinky helps Gordon announce the sponsors.
Community content is available under
CC-BY-SA
unless otherwise noted.