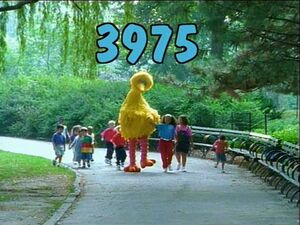 Picture
Segment
Description

SCENE 1
Telly presents his favorite letter - T. Baby Bear spots him and ropes him into modeling for his drawing session, needing something special to draw. He instructs Telly how to pose with the T, then leaves to get a fuchsia crayon, leaving Telly to hold his pose.

Film
T is for turning and tired. (Maria voiceover)
(First: Episode 3851)

Animation
Airplanes carve the capital and lowercase T.
(First: Episode 3230)

Muppets
Ernie's Show and Tell: Sydney shows Ernie her drawing of her family, which includes Ernie.
(First: Episode 3951)

SCENE 2
Maria comes across Telly, still holding his pose. She scratches the different parts of his body that have itches.

Animation
Hands sculpt different noses on a man.

Cast
Linda shows a girl how to sign the word dance.
(First: Episode 3945)

Cartoon
A girl dances with a tiger.
Artist: Karen Aqua
(First: Episode 3387)

Cartoon
Rap #11
(First: Episode 2531)

Film
Milo Counting: 11
(First: Episode 3585)

Cartoon
Suzie Kabloozie: Judge #11

SCENE 3
Rosita finds Telly and helps him pass the time by playing a sound game using items from her backpack. The sounds include some animal noises, which come from some passing farm animals. They then hear some noises coming from a nearby fountain...

Film
Kids play "Twinkle Twinkle Little Star" on the Shpritzer.
(First: Episode 3434)

Animation
Crayons play together.
(First: Episode 3105)

Muppets / Celebrity
Big Bird visits the studio of Chuck Close, who shows how he prepares to paint his self portrait.

Animation
Can you find the birds in this picture?
(First: Episode 3514)

SCENE 4
Elmo sings "The Alphabet Song" with Telly, but the music makes Telly want to dance, but he must stay still. They sing a slower version instead.

Film
Laurel talks about her love of dancing, Jonathan talks about singing, Samantha talks about drawing. and Nick talks about acting.
(First: Episode 3962)

Muppets
Grover conducts a piece of very emotional music. That is, the music that he conducts changes, and his mood changes with it. When he's had all he can take, he steps out of frame to stop that cassette tape that has been playing.

Animation
Clown Honking #11
(First: Episode 3196)

Cartoon
A girl types the number 11 on a computer, matches it with another one, and sees 11 elephants.
(First: Episode 3885)

Cartoon
African quilt pattern
(First: Episode 3145)

SCENE 5
Baby Bear finally returns and allows Telly to move around a bit before he starts drawing.

Song
"Reach Your Hand Up High"
(First: Episode 2702)

Cast
Linda shows a girl how to sign the word friend.
(First: Episode 3927)

Film
T for Triangle
(First: Episode 3271)

SCENE 6
Baby Bear's picture is finished and now, Telly wants to draw a picture of Baby Bear. He gets him in just the right pose before starting to draw.

Muppets
Elmo's World: Families

SCENE 7
Telly and Baby Bear admire each other's artwork as Maria announces the sponsors.
See also
Community content is available under
CC-BY-SA
unless otherwise noted.