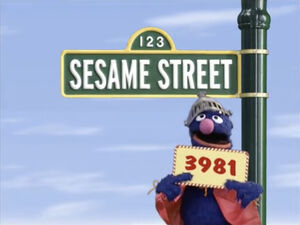 Picture
Segment
Description




SCENE 1
Big Bird and Cookie Monster play "Three of These Things." The chocolate chip cookie doesn't belong, so Cookie eats it. Then he repeats the game with an oatmeal cookie, and eats that one. Big Bird figures out the trick, and lets Cookie eat the peanut butter cookie without his having to sing again.




Muppets
Monster Clubhouse
Today's furry shape of the day is the Triangle. A penguin subs for The Elephant, and the monsters sing The Alphabet Song in Monster and English.
(First: Episode 3974)

Muppets
The Number of the Day: 3
Papa Bear, Mama Bear, and Baby Bear show up after learning that the number of the day is 3.

Film
Three kids dance for the number 3. (beginning edited)
(First: Episode 3167)

Cartoon
In Egypt, three lemons make lemonade.
(First: Episode 3285)




SCENE 2
Elmo takes Maria to lunch at Hooper's Store, and Elmo orders everything as "super-scrumptious". However, Alan's fried chicken special ignites a grease fire, and the smoke detector goes off. Maria and Elmo evacuate and call the fire department.




SCENE 2, cont'd
As everyone waits outside, the New York City Fire Department comes. Luckily, nothing else had caught fire. The scene frightens Elmo, who hides behind Maria.

SCENE 2, cont'd
With the fire out, Elmo is afraid to return to Hooper's. Bill, a firefighter, invites him and Maria to the fire station, and they go.

SCENE 2, cont'd
Elmo is relieved by seeing how the firefighters are always ready by playing with the fire pole, truck and helmet. They share lunch and return to Hooper's.

Film
Kids talk about firefighters. "Thank You, Firefighters!!!"

Muppets / Celebrity
Jill Scott sings "We Are All Earthlings."




Muppets
Journey to Ernie
Big Bird sets off on a Journey To Ernie. First, Big Bird looks for Ernie's box with the Martians' help.

Animation
Sand creatures illustrate the song, "Sing," with vocals by Stephanie D'Abruzzo.

Muppets
Journey to Ernie
Big Bird tries to catch Ernie's box using the penguins' pattern. We found him!

Muppets
Muppet & Kid Moment — Ernie talks with Nicholas about his glockenspiel.
(First: Episode 3930)
Come back tomorrow for another Journey to Ernie.

Muppets
The Letter of the Day: L
Cookie Monster thinks that singing can stop him from eating the Letter L Cookie.

Film
L is for look, legs, light, lemonade, and ladybug.
(First: Episode 3427)

Cartoon
Letter L Animals' Limerick
(First: Episode 3740)

Muppets
The Spanish Word of the Day: sí, no
Does Rosita have time for the Spanish Word of the Day, or doesn't she?

Muppets
Elmo's World: Fish




SCENE 3
Big Bird, Elmo, Alan, Maria, and firefighter Bill announce the sponsors. A full-length credit scroll follows, even though it's a Monday.
Notes
The firehouse featured in the episode is located at 1367 5th Avenue, in East Harlem, Manhattan, New York City. [1] Their "Fire Factory" facility was opened in 1960, after the two units joined in 1948. Engine Company 58 was founded in 1893, while Ladder 26 was founded in 1902.
This episode is dedicated to Lt. Robert Nagel, who died during 9/11.
Bruce Connelly makes a cameo appearance in the crowd gathering outside Hooper's.