Sesame Street
Alan runs out of cookies for Cookie Monster
Air date
February 5, 2002
Season
Season 33 (2002)
Written by
Annie Evans

Production
September 19 & 20, 2001
Sponsors
Q, 4 "and by me favorite joke: 'Why did cookie have to go to doctor? IT FELT CRUMBY!'"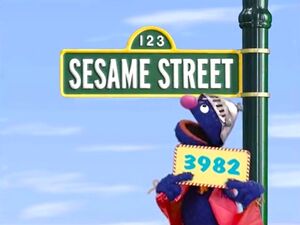 Picture
Segment
Description




SCENE 1
Big Bird tells Cookie Monster a recurring cookie joke. Then Big Bird joins Maria and Zoe to play a song game called "

I Can, You Can

."

Muppets / Celebrity
R.E.M. performs "Furry Happy Monsters" with the Kate Pierson Muppet and several monsters.
(First: Episode 3829)

Muppets
The Number of the Day: 4
Four Honkers (including Mr. Honker) show up after learning that the number of the day is 4.

Animation
Ornate 4s fly through the air.
(First: Episode 3317)

Film
Egyptian figures illustrate the number 4.
(First: Episode 3306)

SCENE 2
Cookie Monster finishes his box of cookies, but Alan has no more to sell him.




SCENE 2, cont'd
Cookie asks Maria, Elmo and Zoe for cookies. Without any cookies, he begins to go on an eating rampage until Oscar suggests that he try baking some (instead of eating the trash can).

SCENE 2, cont'd
Alan shows Cookie, Elmo and Zoe how to make oatmeal raisin cookies. The situation tries Cookie's patience, but he waits.

SCENE 2, cont'd
Everyone else gets a freshly baked cookie, but there are none left for Cookie. Luckily, Grover arrives with a delivery which does not last long.




Muppets / Film
Big Bird's favorite food is birdseed cookies. "What's yours?"
Kids comment on their favorite foods.
(First: Episode 3943) sans Big Bird intro




Muppets
Journey to Ernie
Big Bird sets off on a Journey To Ernie. First, Big Bird looks for Ernie's box by dancing at the discotheque.

Song
"Front Back Ballet"
Artist: Jane Aaron
(First: Episode 3016)

Muppets
Journey to Ernie
Big Bird looks for Ernie's box in the supermarket.

Cartoon
Kids sing about the joys of celery.
(First: Episode 2976)

Muppets
Journey to Ernie
Big Bird tries to catch Ernie's box using the penguins' pattern. We found him!
(First: Episode 3981)

Muppets
Bert is trying to read his book when Ernie starts singing a song about addition. As Ernie sings, he's joined by Cookie Monster and Grover, some cows, an elephant, and a Martian. At the end of the song, Ernie leaves Bert with a room full of singing monsters and animals.
(First: Episode 3846)
Come back tomorrow for another Journey to Ernie.

Muppets
Hero Guy
Baby Bear and Hero Guy show how to dance the Bear Family Dance, the Bunny Hop, the Twist and the Swim.

Muppets
The Letter of the Day: Q
Cookie Monster eats the little stemmy part of the Letter Q Cookie, and Prairie Dawn thinks it is the letter O.

Film
Ballerinas pose as the letter Q.

Animation
A paper crumples to reveal Q, q and Qq.
(First: Episode 3105)

Muppets
Spanish Word of the Day: adiós
Rosita says adiós to the word and to the viewer.

Muppets
Elmo's World: Sky

SCENE 3
Cookie Monster, Elmo and Zoe announce the sponsors.
Notes
This is the first time Zoe wears her tutu as her regular outfit.