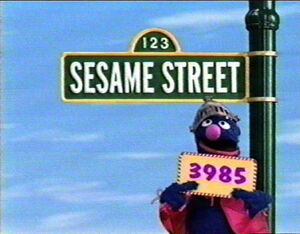 Picture
Segment
Description




SCENE 1
A duck tries to quack a joke, but it can't stop laughing about it. Then Gordon suggests that they sing "Twinkle Twinkle Little Star," though substituting "ha-ha-has" for the lyrics.




Muppets
Monster Clubhouse
Today's Snacktime is Milk, and a man arrives looking for a kazoo club meeting.
(First: Episode 3941)

Muppets
The Number of the Day: 6
Five sheep and a duck arrive to celebrate that the Number of the Day is 6.

Film
Wegman dogs ride canoes to illustrate the number 6.

SCENE 2
Telly plays with his hamster Chuckie Sue. Baby Bear arrives to tell him that Papa Bear has allowed him to have a pet. Telly assumes that it will be a hamster, but Baby Bear isn't sure if he wants a hamster.

SCENE 2, cont'd
Elmo arrives with Dorothy and suggests getting a goldfish. Elmo says that Dorothy is singing The Alphabet Song.




SCENE 2, cont'd
Since Gina is a veterinarian, Baby Bear asks her for advice. However, she is busy tending to all of Old MacDonald's animals. In song, Old MacDonald and his animals suggest a cow, a pig, or other farm animals.

SCENE 2, cont'd
The Big Bad Wolf suggests to Baby Bear that he would make a great pet.

SCENE 2, cont'd
Gordon discusses the problem with Baby Bear until Papa Bear arrives with a parrot. Baby Bear names him Ralph and teaches him to talk.




Film
Elmo talks about Dorothy, and kids talk about their pets.




Muppets
Journey to Ernie
Big Bird sets off on a Journey To Ernie. First, Big Bird looks for Ernie's box across the tightrope.
(First: Episode 3983)

Cartoon
Sand creatures illustrate the song, "Sing," with vocals by Stephanie D'Abruzzo.
(First: Episode 3981)

Muppets
Journey to Ernie
Big Bird looks for Ernie's box by repeating a clapping pattern.
(First: Episode 3984)

Film
Angel Corella dances with the alphabet, while Telly, Zoe and Elmo name the letters.
(First: Episode 3785)

Muppets
Journey to Ernie
Big Bird looks for Ernie's box at the supermarket. We found him!
(First: Episode 3982)

Muppets
Ernie & Bert — Ernie brings a surprise home, and he tells Bert to guess what it is. The surprise turns out to be a puppy. Bert wants to call the puppy "Norman"; Ernie suggests "Godzilla the Wonder-Dog".
(First: Episode 1956)

Muppets
The Letter of the Day: A
Cookie Monster locks the Letter A Cookie inside a safe, along with the key, to prevent himself from eating it. The plan almost works until Cookie eats the safe entirely: "the best laid plans of mice and men and Cookie Monster."

Film
A for action, acrobat, art, artichoke, and applause.
(First: Episode 3266)

Cartoon
A for Acorn
(First: Episode 1626)

Muppets
Spanish Word of the Day: gato
A cow tries to help Rosita by illustrating gato, but she isn't a cat. Suddenly Little Murray Sparkles comes by and Rosita replies that this is what gato is.

Muppets
Elmo's World: Bicycles
(First: Episode 3969)

SCENE 3
The duck is still laughing, so Big Bird helps him to read the sponsors. The full credit scroll follows.
Community content is available under
CC-BY-SA
unless otherwise noted.