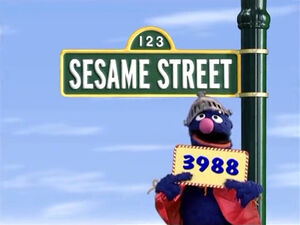 Picture
Segment
Description

SCENE 1
Big Bird opens telling a train joke to a train of monsters.

SCENE 1,
cont'd
Maria and Cookie Monster sing a Russian cookie subtraction song after which Cookie eats the plate and table too.

Muppets
Monster Clubhouse
Today's Furry Feeling of the Day is Surprised, and a duck arrives to play a flapping dance. (edited)
(First: Episode 3969)

Muppets
The Number of the Day: 14
The number 14 emerges from a cannon after The Count learns that it is the number of the day.

Animation
Computer #14
(First: Episode 3881)




SCENE 2
Teacher Big Bird teaches Elmo and Snuffy about the Letter Y. However, he can't think of a Y word, which means that he shouldn't be the teacher. Afraid that the pretend school must close, During "recess," Elmo goes out to find a teacher.

SCENE 2, cont'd
Elmo asks Alan, who tells him about the sound of the Letter Y. He learns about Yogurt and Yo-Yo. He teaches it to Snuffy and Big Bird.




SCENE 2, cont'd
Gabi shows Elmo how to make the Letter Y, and he teaches it to Big Bird and Snuffy. He still hasn't found a teacher.

SCENE 2, cont'd
Gina teaches Elmo how to yodel, and all of her patients join in the song.

SCENE 2, cont'd
Big Bird makes Elmo the teacher of the Letter Y School.

Muppets
Muppet & Kid Moment — T.J. teaches Grover how to sing the song "Sticky Bubble Gum."




Muppets
Journey to Ernie
Big Bird sets off on a Journey To Ernie. First, Big Bird looks for Ernie's box with the Martian's help.
(First: Episode 3981)




Celebrity
Ray Charles sings the Alphabet Song, and various celebrities join in, including Michael Jeter, Patrick Stewart, Tony Bennett, Shari Lewis, Lamb Chop, Harry Belafonte, Grover, David Robinson, and Ellen DeGeneres.
(First: Episode 3526)

Muppets
Journey to Ernie
Big Bird looks for Ernie's box by playing a clapping game.
(First: Episode 3984)

Film
"SCHOOL!" (high speed footage)
(First: Episode 3278)

Muppets
Journey to Ernie
Big Bird asks the dinosaur to help him find Ernie's box. We found him!
(First: Episode 3984)

Muppets
Ernie can't seem to get Ernestine to say his name, but Ernestine has no trouble saying Bert's name.
(First: Episode 2586)
Come back tomorrow for another Journey to Ernie.

Muppets
The Letter of the Day: Y
Cookie Monster locks the Letter Y Cookie in a suitcase so he won't eat it, but the suitcase has no bottom. "Me wonder how that happened."

Film
Y, Y, The Letter Y: kids form Y with their bodies.

Cartoon
Consonant Sound Limerick: Y - Yak (sound effects added)
Artist: Jeff Hale
(First: Episode 1184)

Muppets
The Spanish Word of the Day: leche
Rosita drinks the word leche, the Spanish word for "milk."
cut from the Sprout version

Muppets
Elmo's World: Sky
(First: Episode 3982)

SCENE 3
Elmo, the teacher, returns to the Letter Y School to read the sponsors.
Alterations
Notes
The VideoNow Jr. version of this episode has the Friday closing credits sequence, despite this episode originally airing on a Wednesday.
Community content is available under
CC-BY-SA
unless otherwise noted.