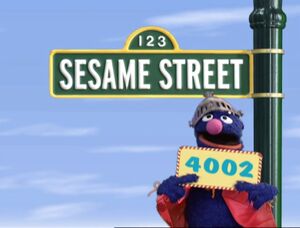 Picture
Segment
Description




SCENE 1
Big Bird plays a hiding game with the viewer. Zoe joins in and hides, as Big Bird sings the "Yoo Hoo!" song.

Muppets
Monsterpiece Theater: "Guys and Dolls"
Herry Monster sings about how he likes to play with dolls, and Ruby sings about how she likes to play with trucks.
(First: Episode 2591)

Muppets
The Number of the Day: 3
Papa Bear, Mama Bear, and Baby Bear show up after learning that the number of the day is 3.
(First: Episode 3981)




Film
Number Three Ball Film: A red ball follows a rollercoaster-like track through checkpoints (each, a set of three) that are counted in voiceover. At the end, the ball is ground up into a powder.
(First: Episode 0254)

Film
Three kids dance for the number 3.
(First: Episode 3167)




SCENE 2
Rosita, Zoe, and Lulu are the Three Amigas. Lulu runs home to get a special game for them to play, and Zoe and Rosita need someone else to play with while she's gone, so they can be a group of three. They get Baby Bear to form the Three Amigos with them. The girls decide they should all play dolls, but Baby Bear finds it too girly for him. Baby Bear asks Gina to intervene, but Gina (holding Hannah) points out that mommies are not the only ones to take care of babies. Baby Bear remembers Papa Bear taking care of him, and agrees to play. They feed the baby dolls and put them to sleep, and the girls then suggest that they all dance ballet. Baby Bear once again protests that ballet is a girl thing, and Baby Bear asks Miles about it. Miles tells him that boys do dance ballet, and they remember Jock Soto once dancing on Sesame Street. Baby Bear relents, and the Three Amigos dance together. Lulu returns with a football! The girls agree that they all love playing football. But they realize that now there are four of them, not three. Baby Bear sadly offers to go draw, but the girls don't want to leave him out. They decide they've done enough stuff in threes that day, and form the Four Amigos.

Muppets
Ernie's Show and Tell
Sidney shows Ernie a drawing she made of some of her friends. (intro cut)
(First: Episode 3955)




Muppets
Journey to Ernie
Big Bird sets off on a Journey To Ernie. First, Big Bird looks for Ernie's box by dancing at the discotheque.
(First: Episode 3982)

Film
A dance class does some stretching exercises, then dance in their own ways, ending with the tango (instrumental: "Naughty Door Opera").
(First: Episode 3022)

Muppets
Journey to Ernie
Big Bird looks for Ernie's box in the supermarket.
(First: Episode 3982)

Film
A visual representation of the nursery rhyme "To Market" with Wegman's dogs.
(First: Episode 3543)

Muppets
Journey to Ernie
Big Bird tries to catch Ernie's box using the penguins' pattern. We found him!
(First: Episode 3981)

Muppets / Celebrity
Ernie and Rubber Duckie recite the alphabet with Christopher Reeve.
(First: Episode 3911)
Come back tomorrow for another Journey to Ernie!

Muppets
The Letter of the Day: Y
Cookie Monster locks the Letter Y Cookie in a suitcase so he won't eat it, but the suitcase has no bottom. "Me wonder how that happened."
(First: Episode 3988)

Animation
His Y, Her Y

Film
Y for yell, yellow and yodel
(First: Episode 3456)

Muppets
The Spanish Word of the Day: Casa
(First: Episode 3991)

Muppets
Elmo's World: Hair
(First: Episode 3890)

SCENE 3
Big Bird is hidden somewhere on the street and asks the viewer to find him. While the search occurs, he mentions the day's sponsors before jumping from his hiding spot.
Community content is available under
CC-BY-SA
unless otherwise noted.