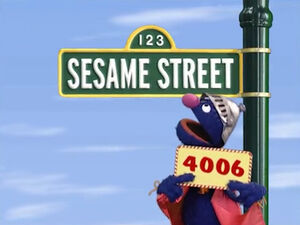 Picture
Segment
Description

SCENE 1
Big Bird and Snuffy present the letters SN, which they try to blend with the sound "eeze." Oscar, preparing some pepper pancakes, orders them to leave his premises. The pepper makes him sneeze, helping illustrate the word. Fluffy catches a whiff of pepper and lets out a large sneeze that blows the word away and Oscar into the air.




Muppets
Monster Clubhouse
Today's Snacktime is Milk, and a man arrives looking for a kazoo club meeting. (edited)
(First: Episode 3941)

Muppets
The Number of the Day: 20
A huge monolith of the number 20 arrives because 20 is the Number of the Day.

Cartoon
Four hands are needed to count to 20.

Film
Growing Numbers #20
(First: Episode 2967)

SCENE 2
Zoe feels so happy today that she starts singing a song, but can't figure out what to sing regarding what her happiness makes her do. She thinks for a moment and starts to leap, shouting "Weeeeee!" She sings her completed song. Big Bird comes by and hears her song. He likes it very much and sings his own version, where he yodels instead of leaping. Zoe isn't fond of his change, nor the ones made by a Honker and Rosita. Oscar even unintentionally adds a verse to it. Zoe explodes, since none of their additions are things that make her happy. She tries singing their verses and discovers she enjoys doing what they all do.

Film
Kids talk about being happy.

Cartoon

Two viewers with Picassoesque facial features in an art gallery critically examine the portrait of a viewer.
Artist: Mo Willems
(First: Episode 3442)

Muppets
Journey to Ernie
Big Bird sets off on a Journey To Ernie. First, Big Bird looks for Ernie's box with the Martians' help.
(First: Episode 3981)

Insert
None, some and all of the dancers dance as Big Bird narrates.
(First: Episode 3360)

Muppets
Journey to Ernie
Big Bird looks for Ernie's box in the chicken coop.
(First: Episode 3984)




Film
Lamont, who lives in the city, visits his friend Adrian, who lives in the country. Together they ride bikes, swim, and have dinner with Adrian's family.
(First: Episode 2800)

Muppets
Journey to Ernie
Big Bird tries to catch Ernie's box using the penguins' pattern. We found him!
(First: Episode 3981)

Muppets
Ernie and Bert:
Ernie keeps Bert awake at night singing "What's the Name of That Song?."
(First: Episode 3840)
Come back tomorrow for another Journey to Ernie!

Muppets
The Letter of the Day: S
Super Grover has a super plan to keep Cookie Monster from eating the letter of the day. He puts the cookie into a basket, and pulls it up with a rope. However, Cookie Monster pulls down on and eats the basket, sending Super Grover flying.

Cartoon
A voice asks a face if it's aware of the letter S, and it is revealed that the face belongs to a snake.
Artists: The Hubleys
(First: Episode 0278)

Song
"S, You're the Best"
(First: Episode 3551)

Muppets
The Spanish Word of the Day: libro
Professor Grover can't remember what a libro is, despite the fact that he's holding one.
(First: Episode 3990)

Muppets
Elmo's World: Flowers, Plants & Trees
(First: Episode 3895)

SCENE 3
Zoe and Big Bird reprise their happy song, which now mentions that they feel happy when presenting the letter and number of the day.
Community content is available under
CC-BY-SA
unless otherwise noted.