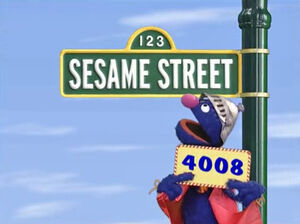 Picture
Segment
Description

SCENE 1
Big Bird sings "The People in Your Neighborhood" about a veterinarian and a letter carrier with Gina, a horse, and Ms. Camp.




Muppets
Monster Clubhouse
The monsters read the previous meeting's minutes and dance the Honk Your Nose, Touch Your Toes, Spin Around And Strike A Pose Dance. After naptime, the Snack of the Day is a huge salami sandwich. A Lavender Anything Muppet, voiced by Jerry Nelson, arrives looking for the Club for People Who Like To Pretend They're Seagulls.
(First: Episode 3955)

Muppets
The Number of the Day: 8
Eight bats show up when The Count reveals that 8 is the number of the day.
(First: Episode 3989)

Cartoon
"Candy Man"
Artist: Bud Luckey
(First: Episode 0359)

Film
Eight children dance in a colorblock grid.
(First: Episode 3115)

SCENE 2
Lulu enters the Mail It Shop and says hi to Maria. She ask if the mail came in today. When Ms. Camp arrives, Lulu gets nervous as Maria introduce her to Ms. Camp, the letter carrier. As Ms. Camp leaves to deliver the mail on Sesame Street, Lulu is impressed by her job that she goes off to catch her.




SCENE 2 cont'd
Lulu catches up to Ms. Camp and says how she wants to be a letter carrier just like her. Ms. Camp is impressed on how excited Lulu is that she brings Lulu with her as she delivered the mail.




SCENE 2 cont'd
When they arrived at Big Bird's nest to delivered a package, Big Bird isn't there to received it and the package doesn't fit in his mailbox. So Ms. Camp calls Gordon to give the package to Big Bird and Ms. Camp will write a note to Big Bird on it. However, Big Bird arrives at that moment so Ms. Camp gives him the package now. Then Ms. Camp tells Lulu that she has to deliver mail to other streets and says good-bye. Lulu likes Ms. Camp's job and wants to be a letter carrier just like her, but she realize she has to wait till she is grown-up. Big Bird suggested that Lulu can pretend to be a letter carrier and Lulu likes that idea.

SCENE 2 cont'd
At Hooper's Store as Alan is serving food to some kids, Lulu comes by in her letter carrier uniform and gives Alan some pretend mail. She kept delivering the mail to Alan until Alan tells Lulu that he is busy right now and that he doesn't need anymore letter. So Lulu decides to have lunch and orders a tuna melt from Alan.




SCENE 2 cont'd
Lulu arrives at the Mail It Shop in her letter carrier uniform and tells Maria how she can't wait to grow-up to be a letter carrier. Maria tells her that is great, but then tells Lulu that she might change her mind and think of another job. While Lulu doesn't think so, an ice cream vendor passes by and Lulu wants to be an ice cream vendor. She runs off to catch up with the ice cream vendor.

Film
Elmo tells us what he wants to be when he grows up. Kids talk about what they want to be.
(First: Episode 3973)




Muppets
Journey To Ernie
Big Bird sets off on a Journey To Ernie. First, Big Bird looks for Ernie's box with the Martians' help.

Film
Wegman dogs show stop and go during a race.

Muppets
Journey To Ernie
Big Bird looks for Ernie's box by playing a clapping game.

Song
To the original Fats Waller recording of "I'm Gonna Sit Right Down and Write Myself a Letter," a group of kids act out the song in a throwback to the silent film era.
(First: Episode 3659)
This segment was cut from the Sprout version. See below.

Muppets
Journey To Ernie
Big Bird asks the dinosaur to help find Ernie's box. We found him!

Muppets / Celebrity
Rubber Duckie directs Ernie and Liam Neeson in a stirring rendition of the alphabet.
(First: Episode 3797)
Come back tomorrow for another Journey to Ernie.

Muppets
The Letter of the Day: L
Cookie Monster thinks that singing can stop him from eating the "Letter of the Day" cookie.
(First: Episode 3981)

Film
L is for look, legs, light, lemonade, and ladybug.
(First: Episode 3427)

Cartoon
"If You've Lost Your L, Look Around"
Artist: Bruce Cayard
(First: Episode 1483)

Film
Wegman's dogs form the letter L.
(First: Episode 3300)

Muppets
The Spanish Word of the Day: hola
Everyone tells Grover "hola," (hello) but he doesn't know what it means. Maria tells him, but now there's no one for Grover to say hola to... except the viewer.
(First: Episode 3996)

Muppets
Elmo's World: Families
(First: Episode 3975)

SCENE 3
Big Bird announces the sponsors as Lulu talks to the ice cream vendor about his job.
Alterations
Notes