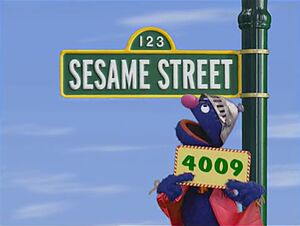 Picture
Segment
Description

SCENE 1
Big Bird leads the Birdketeers in a musical game of "Follow the Leader."

Muppets
Grover is a personal trainer of his workout video called, "Grover's Monster Workout Video." He exercises with Bobby and Sissy, but he gets tired from swinging his arms, running, and jumping up and down that he faints.
(First: Episode 3227)

Muppets
The Number of the Day: 6
Five sheep and a duck arrive to celebrate that the Number of the Day is 6.
(First: Episode 3985)

Animation
"Six Circus Balls"
Artist: Jane Aaron
(First: Episode 3001)




SCENE 2
Susan and Miles are running a clothing drive in the arbor. Telly comes by with a box full of old, baby clothes, when Miles comes across a small, stuffed horse. Telly recognizes him as Clark, his favorite toy when he was a baby (before he got Freddy). Susan sees how fond he is of Clark and suggests he keep him. Telly declines, claiming he's too old for him now and another child should have him.




SCENE 2 cont'd
Telly rushes back to the clothing drive, having remembered a special memory he had with Clark: he was there the first time Telly every recited the alphabet (though, his baby self babbles through most of it). In the present, Telly demonstrates that he can recite it all by himself, without Clark.




SCENE 2 cont'd
Telly returns, recalling how Clark was there for even more important milestones in his life, such as the first time he saw a triangle and his first steps. Susan believes he should just keep Clark, but Telly thinks keeping his baby toy will make him a baby. He decides he needs some closure before giving him away and sings a song about their times together. Telly leaves Clark with Susan, saying he'll return after some soul searching.

SCENE 2 cont'd
Telly enters Hooper's Store and explains his situation to Alan, who knows exactly how Telly feels. He too had an item he loved a lot: his pet rock Snowball. As he grew up, he stopped carrying Snowball around with him, but he still keeps him around as a paperweight. Telly realizes he can still keep Clark and rushes back to the clothing drive.

SCENE 2 cont'd
Telly finds that everything's gone and believes Clark has been taken away with all the clothes. Susan, however, has kept Clark, knowing Telly would come back to claim him. Telly has a happy reunion with Clark and brings him back home to meet Freddy.

Song
"Happy Happiness," against footage of kids playing at a beach.
(First: Episode 3320)




Muppets
Journey to Ernie
Big Bird sets off on a Journey To Ernie. First, Big Bird looks for Ernie's box in the chicken coop.
(First: Episode 3984)

Animation
Kids see different objects in the clouds, including a train, a drum and a tiger.

Muppets
Journey to Ernie
Big Bird looks for Ernie's box across the tightrope.
(First: Episode 3983)

Muppets / Celebrity
Nathan Lane and The Oinker Sisters sing "Sing."
(First: Episode 3830)

Muppets
Journey to Ernie
Big Bird looks for Ernie's box by dancing at the discotheque. We found him!
(First: Episode 3982)

Muppets
Ernie's Show and Tell: Patrick shows Ernie his rubber duckie collection. (introduction cut)
(First: Episode 3829)
Come back tomorrow for another Journey to Ernie.

Muppets
Hero Guy
Baby Bear wants to have a Flying Adventure in the Sky with Hero Guy, but he can't fly by himself.
(First: Episode 3989)

Muppets
The Letter of the Day: F
Cookie Monster plans to draw a picture of the letter cookie so that he can eat it yet still teach the letter thereof. He ends up eating both the cookie and the drawing, though!
(First: Episode 3997)

Animation
F / f candles
(First: Episode 3081)

Cartoon
F - Face (new sound effects added)
Artist: Jeff Hale
(First: Episode 1162)

Muppets
The Spanish Word of the Day: abierta/cerrada
Gabi tries to feed Baby Natasha, and in doing so demonstrates abierta and cerrada (open and closed).
(First: Episode 3995)

Muppets
Elmo's World: Farms
(First: Episode 3879)

SCENE 3
Big Bird announces the sponsors.
Notes
Matt Vogel performs Big Bird throughout the show, but Caroll Spinney provides the singing vocals for "Follow the Leader."