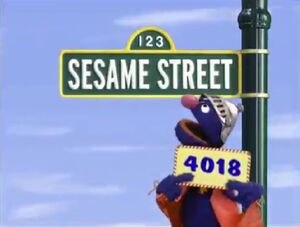 Picture
Segment
Description

SCENE 1
Big Bird is glad we are here because he wants to count today. He sings as he counts us and then himself, which makes two. Then he counts his friends including Elmo, Telly, Rosita, Zoe, and four kids, adding up to ten.

Muppets
Monster Clubhouse
Narf "drops by" from above. The "Furry Feeling of the Day" is surprised. A duck arrives and asks if someone said "flap time", they all flap to the "Chicken Dance", before napping. The elephant crashes in, and asks if anyone wants to play chess instead, but the monsters decline. During mail time, little Minnie Golf from tiny town, New Jersey asks "How do monster's scratch their backs?" As it is time to say good-bye, Phoebe translates Mel's speaking and says "Yes Mel, parting is such sweet sorrow", before they sing the "Monster Goodbye Song" with the duck joining in.
(First: Episode 3969)

Muppets
The Number of the Day: 8
Eight bats show up when The Count reveals that 8 is the number of the day.
(First: Episode 3989)

Film
Wegman's dogs form the numbers 1 to 8
(First: Episode 3293)

Cartoon
Pinball Number Count #8
(First: Episode 0998)

SCENE 2
As Zoe is heading towards the Mail-It Shop, she sees Rosita and Maria having a conversation in Spanish. Zoe finds it amazing and she wants to learn to speak Spanish, so she can talk to Maria. So Rosita decides to teach Zoe and gives her first Spanish word, si, which means yes.

SCENE 2 cont'd
They soon meet Linda and Barkley. Rosita teaches Zoe the next Spanish word, which is perro for dog. Next, they meet Stinky the Stinkweed, who is growing a flower. Rosita teaches Zoe the Spanish word of flower is flor.




SCENE 2 cont'd
Next, Rosita and Zoe meet up with Oscar the Grouch and Fluffy, who is practicing for the annual tri-state elephant squirter. Rosita pleads to Oscar if they can watch and after much pleading, Oscar lets them watch. As Fluffy squirts water out of her trunk, Rosita teaches Zoe another Spanish word, which is aqua for water. Zoe now feels like she knows enough Spanish words and goes to talk to Maria.

SCENE 2 cont'd
As Maria is talking on the phone in Spanish, Zoe cannot understand her. Zoe gets upset at Rosita for not making her understand Spanish and runs off. When Maria and Rosita catch up with Zoe crying by Oscar's trash can, Maria explains to Zoe that it takes time to learn another language. Rosita replies that Zoe did learn Spanish words today. Zoe agrees and says all the Spanish words she learned today. When Zoe mentions Fluffy as aqua, Maria corrects her, saying that Fluffy is an elefante. Then Fluffy squirts so much water in Maria's face that she has to go back to the shop to dry off. Zoe feels better and Rosita teaches her another word, amiga, which means friend as the two hug.

Film
A girl who lives in El Salvador plays a counting game with her class, which involves running around and getting into groups of a number when it is called. (beginning cut)
(First: Episode 3012)
cut from the Sprout version




Muppets
Journey to Ernie
Big Bird sets off on a Journey To Ernie. First, Big Bird looks for Ernie's box with the Martian's help.
(First: Episode 3981)

Cartoon
A cartoon shows a few Spanish words - which are also English words.
Artist: Fred Garbers
(First: Episode 3011)
cut from the Sprout version

Muppets
Journey to Ernie
Big Bird looks for Ernie's box by playing a clapping game.
(First: Episode 3984)

Film
Jake and his family have moved from the city to the country. He corresponds with his best friend Kan by mail.
(First: Episode 3564)

Muppets
Journey to Ernie
Big Bird asks the dinosaur to help him find Ernie's box. We found him!
(First: Episode 3984)

Muppets
Ernie sings to Bert about his crazy dream about "Animals In, On and Under."
(First: Episode 3490)
Come back tomorrow for another Journey to Ernie.

Muppets
The Letter of the Day: X
Cookie Monster eats the cookie with the letter of the day before he can introduce any words beginning with X ("Oh, me feel tremendous guilt."), so an Anything Muppet doctor puts an X-ray in front of Cookie Monster.

Cartoon
A family comes across a giant X.

Animation
X is drawn out with drawing tools and then cut out.

Muppets
Big Bird and artist Chuck Close appear in a segment in which one of his self-portraits is analyzed by a group of kids in voice over as the camera pans out from the painting.
(First: Episode 3968)

Muppets
Elmo's World: Drawing
(First: Episode 3859)

SCENE 3
Rosita and Zoe announce the sponsors and Zoe says her new Spanish word, adios.
Alterations
Picture
Segment
Description




Cartoon
The Fox and the Grapes
In the classic fable, a famished fox can't reach the grapes, and eventually gives up, assuming they're sour anyway.
(First: Episode 0784)
This segment replaced the El Salvador film in the Sprout version.

Animation
A quartet of horns arranges themselves in the proper order to play Beethoven's "Ode to Joy."
(First: Episode 3769)
This segment replaced the Spanish words cartoon in the Sprout version.