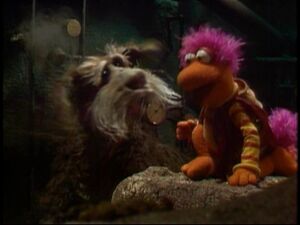 Doc pulls up the floorboards in the workshop in order to undo the clogs in the pipes. Sprocket goes through the hole in the ground and ends up loose in Fraggle Rock and starts looking for Gobo Fraggle. He knocks over a bunch of Doozer towers and ruins Boober's (in)famous Doozer-stick stew.
Fraggle Facts
Notes
From this episode onward, episode titles are displayed on the screen during the first few seconds of the episode, after the opening theme has ended.
Writer Sugith Varughese recalled in 2020: "I think the only time I remember pitching an idea that actually became the episode i wrote was Sprocket's Big Adventure. It was the start of a new season and we were all seeing each other again after the hiatus. I remember going in to see Jerry and Larry and saying, "You know, I think it's finally time for Sprocket to go into the Rock." And they got this look in their eyes like mischievous kids, and that's what I ended up writing."[1]
Supporting cast
Songs
Video releases
Sources