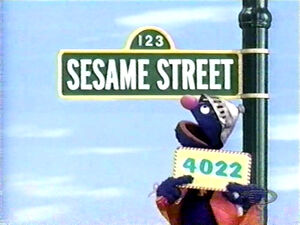 Picture
Segment
Description

SCENE 1
Big Bird and the kids pretend that they're elephants. When The Elephant shows up, he teaches them to do "The Elephant Dance."




Muppets
Monster Clubhouse
The monsters have roll call and do the "Hop Hop Stop" dance. Today's Snack Time is a peanut butter sandwich large enough for an Elephant, and the Furry Animal Sound of the Day is "cow."

Muppets
The Number of the Day: 10


A talking number ten appears after The Count reveals that 10 is the number of the day. "Finally the ten-sion is broken!"
(First: Episode 4005)

Cartoon
Ten water-skiing hippos.
(First: Episode 4005)

Animation
A butterfly has fun with 10 flower petals.
Artist: Misseri Studio




SCENE 2
Gina locks up her clinic for her day off, which she will be spending with Elmo. He has their day all mapped out - first, they'll say the alphabet, then have lunch, then head to the movies to see Planet of the Chickens. A camel and rooster interrupt, in need of Gina's help, so Elmo gives her an elaborate disguise. It works and the two recite the alphabet in peace.

SCENE 2 cont'd
The two eat their lunch, when Oscar reports a problem - Lassie, his pet goat, hasn't been eating any of his trash. Lassie instead eats Gina's fake beard, then makes off with her sandwich. Elmo offers her half of his.

SCENE 2 cont'd
Elmo and Gina arrive at the movie theater (populated by birds of all types). The Elephant wishes to get some popcorn before the flick begins, but can't get out of his chair. Gina and Elmo help free him, but by now, the movie is about to begin and he doesn't want to miss anything while at the snack bar. Gina offers to share some of her popcorn and he slurps it all down. Elmo shares his with her now.

SCENE 2 cont'd
The two return to Sesame Street, where Elmo falls asleep from all he's done today.

Song
Cookie Monster sings "What is Friend?" over scenes of a kid playing with his friend.
(First: Episode 3886)




Muppets
Journey to Ernie
Big Bird sets off on a Journey To Ernie. First, Big Bird looks for Ernie's box by dancing at the discotheque.
(First: Episode 3982)

Film
A Wegman dog looks for a place to sit in a movie theater.

Muppets
Journey to Ernie
Big Bird looks for Ernie's box in the supermarket.
(First: Episode 3982)

Cartoon
Edgar Turtle sings "Hey Diddle Diddle."
Artist: Jeff Hale
(First: Episode 2404)

Muppets
Journey to Ernie
Big Bird tries to catch Ernie's box using the penguins' pattern. We found him!
(First: Episode 3981)

Muppets / Celebrity
Ernie and Aaron Neville sing "I Don't Want to Live on the Moon."
(First: Episode 3242)
Come back tomorrow for another Journey to Ernie.

Muppets
The Letter of the Day: J
Cookie Monster jumps along with a jumping cookie with the letter J on it. Upon "tiring" the cookie out, he chows down on it.
(First: Episode 3993)

Animation
Planet J/j
(First: Episode 2833)

Film
J, for jiggle, juggle, jump, joy.
(First: Episode 3396)

Muppets
The Spanish Word of the Day: hola
Everyone tells Grover "hola," (hello) but he doesn't know what it means. Maria tells him, but now there's no one for Grover to say hola to... except the viewer.
(First: Episode 3996)

Muppets
Elmo's World: Games
(First: Episode 3967)

SCENE 3
Big Bird announces the sponsors as he, the kids and the elephant continue the "Elephant Dance."
Community content is available under
CC-BY-SA
unless otherwise noted.