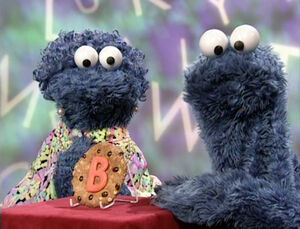 Picture
Segment
Description

SCENE 1
Big Bird sings "Pat Pat Patty Pat" with the viewer.

Muppets
Monster Clubhouse
First, the monsters dance to the "Monster Hop." After their nap, they snack on a giant burrito. They then spin their wheel to find the Furry Shape of the Day - a Square. The Elephant arrives, but he feels like being chased as well, so he's brought along a chicken to pursue them all. The chicken joins them in another nap before they say goodbye.

Muppets
The Number of the Day: 2
Two tubas in tutus, tapdancing, show up after the Count learns that the number of the day is 2.
(First: Episode 3992)

Animation
Two dogs
Artist: William Wegman

Cartoon
Suzie Kabloozie: Judge #2
(First: Episode 3954)

SCENE 2
Gordon is on his way to work, when Elmo and Zoe introduce him to their new friend, Aladdin (David Alan Grier). He routinely rubs the lamp and makes the genie appear so he can demonstrate the genie's powers. The genie's watch buzzes, meaning it's time for his day off (which he gets once every hundred years). He poofs into his golfing outfit and vanishes. Aladdin wonders how he'll get by through the day without his genie, but Elmo and Zoe assure him they can find lots of things to do. Aladdin immediately trips on his shoelace, something his genie could tie for him. Gordon demonstrates how he can tie it on his own. He's very proud when he's able to do it himself. Aladdin also feels very hungry, but doesn't know how to get a meal without the genie, so the monsters lead him...

SCENE 2 cont'd
...to Hooper's Store, where Aladdin assumes Alan is the "lunch genie" who uses magic to make food. Alan instead shows him how he makes Zoe's peanut butter and jelly sandwich the regular way. Alan gives the sandwich to Aladdin instead and begins to make one for Zoe, when Aladdin chimes in - he wants to try making the sandwich himself. He does it with great care and Zoe finds his results delicious.

SCENE 2 cont'd
Aladdin is so overjoyed that he wants to try more things on his own. Elmo suggests they sing a song, which Aladdin has never done before (the genie usually provides singers). They all teach him to sing with a performance of "Sing After Me." The monsters then engage him in a game of tag.

SCENE 2 cont'd
The genie returns from his vacation and is surprised to hear how much Aladdin can do on his own now. He assumes Aladdin no long needs his services, but Aladdin does need him for something - to play tag with!

Film
Kids talk about things they can do by themselves.




Muppets
Journey To Ernie
Big Bird sets off on a Journey To Ernie. First, Big Bird looks for Ernie's box across the tightrope.

Animation
A clay animation orange sings "One Fine Face" as fruit forms her features.

Muppets
Journey To Ernie
Big Bird looks for Ernie's box at the supermarket. We found him!

Muppets
Ernie & Bert — Bert shows Ernie his trick of picking up paper clips without using his fingers. The answer is a magnet, but Ernie says Bert's trick is mistaken, since he used his fingers to pick up the magnet.
(First: Episode 3972)
Come back tomorrow for another Journey to Ernie!

Muppets
The Letter of the Day: B
Cookie Monster and his mother talk about the letter B. Cookie's mother tries to get her son not to eat it, but gives into temptation. ("What the hey? KOWABUNGA!")

Film
(song) Ornate Bs around the neighborhood and at the beach.
(First: Episode 3266)

Animation
B / b candles
(First: Episode 3111)

Muppets
The Spanish Word of the Day: zapato
Professor Grover tries to teach the kids where to wear a zapato (a shoe).
(First: Episode 3989)

Muppets
Elmo's World: Bananas
(First: Episode 3858)

SCENE 3
Gordon does a "magic trick" for the genie by getting Big Bird's door to open on its own. As the genie tries to figure it out, Big Bird announces the sponsors.