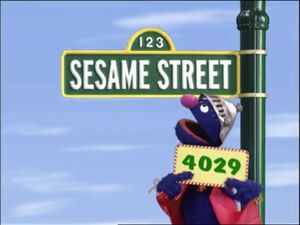 Picture
Segment
Description




SCENE 1
Gordon leads Big Bird, Telly and a group of kids in "Everybody Wash" on the front stoop of 123 Sesame Street.




Muppets
Destiny's Child performs "A New Way To Walk" with Grover, Elmo and Zoe.
(First: Episode 3984)

Muppets
The Number of the Day: 5
5 bats arrive as the Number of the Day and The Count offers them cake.
(First: Episode 3998)

Cartoon
Five outlines of people dance.
Artist: Keith Haring
(First: Episode 3050)

Film
Two girls clap out five.
(First: Episode 3007)




SCENE 2
Telly is worried that his visiting cousin, Izzy, won't like triangles, but it turns out that Izzy likes them so much that he bullies Telly and steals them. Telly is so angry, he considers hitting Izzy.




SCENE 2, cont'd
Gordon has Telly imagine what would happen if Telly fights: they would fight each other and both end up in the hospital, and Izzy would still have the triangles.

SCENE 2, cont'd
Telly kindly asks Izzy again like Gordon said, but it doesn't work. Gordon asks Izzy how he would feel if he took his hat, which helps Izzy to reconsider. Then Big Bird invites Telly and Izzy to play softball, an activity which won't endanger Telly's triangles.

Muppets / Film
Elmo talks about his feelings, and introduces the kids talking about their feelings.
(First: Episode 3987)




Muppets
Journey to Ernie
Big Bird sets off on a Journey To Ernie. First, Big Bird looks for Ernie's box in the chicken coop.
(First: Episode 3984)

Cartoon
Stop-motion animated fruit form a face which wants some cherries for earrings.

Muppets
Journey to Ernie
Big Bird looks for Ernie's box by walking across the tightrope.

Film
A girl named Shirley performs in the circus; her father is Ringling Bros. clown David Larible. Other acts in the circus include elephant training and elephant jumping.
(First: Episode 3529)

Muppets
Journey to Ernie
Big Bird looks for Ernie's box by dancing at the discotech. We found him!

Muppets
Ernie sings "Imagine That" about things that he sometimes imagines to be: first a knight in shining armor who battles a dragon, then a sailor, and finally, himself.
(First: Episode 2142)
Come back tomorrow for another Journey to Ernie.

Muppets
Hero Guy
Baby Bear gets distracted and draws Hero Guy with a Super Big Hand by accident. Now Hero Guy can play basketball faster and squeeze lemons for lemonade.
(First: Episode 3965)

Muppets
The Letter of the Day: I
Instead of eating the Letter I Cookie, Cookie Monster decides to just lick its icing. Now it's no longer The Letter Of The Day cookie.
(First: Episode 4007)

Cartoon
Three characters retrieve instruments from inside the Letter I.

Cartoon
You've Got A Letter: I
(First: Episode 4007)

Muppets
The Spanish Word of the Day: libro
Professor Grover can't remember what a libro is, despite the fact that he's holding one.
(First: Episode 3990)

Muppets
Elmo's World: Flowers, Plants & Trees
(First: Episode 3895)

SCENE 3
Big Bird reads the sponsors, and is joined by Telly with his triangles.
Notes
This episode was pulled after its initial broadcast, after research discovered that children were more interested in Telly and Izzy's argument, rather than the episode's anti-bullying message.[1] When the street story was released on You Can Ask!, the story was edited to remove particular scenes to avoid the issue.
Sources
Community content is available under
CC-BY-SA
unless otherwise noted.