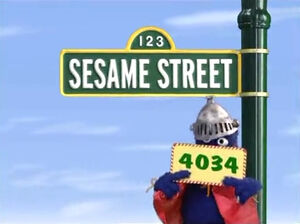 Picture
Segment
Description

SCENE 1
Big Bird greets the viewer as he flaps down the street with the Birdketeers. The camera continues down the block, until it reaches Ernie and Bert's apartment...




SCENE 1 cont'd
Ernie informs the viewer that today is Bert's birthday and he's got a big surprise planned. Assuming he has some peace and quiet, Bert enters with his new book, The History of Oatmeal (a gift from his brother Bart) and starts reading, when Ernie surprises him. He presents more surprises - a singing, dancing elephant, the All Penguin Drum and Bugle Corps and the Honker and Dinger Birthday Greeting. All this is too much for Bert and he asks for some peace and quiet. Ernie respects his birthday wish and sends everyone, and himself, out of the apartment so Bert can read in peace.
This section of the street story would later be used in several international co-productions as a stand-alone Muppet sketch. (YouTube)

SCENE 1 cont'd
Ernie runs into Gordon and Miles, who are playing basketball. Ernie wants to go home to Bert, but the two convince him to stay and take his mind of Bert with a game. Meanwhile, Bert continues to make his way through his book. When Miles and Gordon have to leave, Ernie considers going back home, but they point him toward a Birdketeer meeting he can go to instead.




SCENE 1 cont'd
Ernie joins Big Bird and the Birdketeers for a game of "Bird Follow the Leader," where everyone follows the leader as they do birdie things. Ernie volunteers to lead and starts flapping everyone back to his apartment, but Big Bird assumes command and leads them the other way. Meanwhile, Bert starts to find the quiet unsettling and wonders what Ernie is up to.




SCENE 1 cont'd
The Birdketeer meeting is ending, but Ernie still needs something to do. Snuffy arrives for a playdate with Big Bird and they invite Ernie join in "The Snuffleupagus Alphabet." As they go through the letters, Bert starts to feel lonely and goes off to find Ernie. He confronts Ernie about being left alone and everyone comes out to celebrate.

Song
John Pizzarelli sings about feeling "happy and proud" on your birthday.
(First: Episode 3421)

Muppets
Grover and Rosita explain the concept of "love" in 15 seconds. Grover exasperates about the assignment, but Rosita intervenes just in time.
(First: Episode 3527)

Muppets
The Number of the Day: 4
Four Honkers (including Mr. Honker) show up after learning that the number of the day is 4.
(First: Episode 3982)

Film
Wegman dogs make 4 mud pies.

Celebrity
The Count counts the musicians in the Tokyo String Quartet.
(First: Episode 3266)

Animation
Martin Robinson counts 4 flowers in an Austin Powers-type voiceover.

SCENE 2
Bert, Ernie and the kids play a round of "Three of These Things" using party items and a shirt.

Animation
Black and white clothes arrange themselves in different ways, and finally end up on a boy and a girl.




Muppets
Journey to Ernie: Beach
Big Bird searches for Ernie at the beach.

Muppets
Ernie and Bert: Ernie finds a circle, and Bert sings "It's a Circle." Ernie joins him naming different objects that remind him of the shape in question, and they sing the two parts of the song together.

Cartoon
Kids sing "Happy Birthday". While they're singing, a birthday cake with animated candles is shown.
(First: Episode 3005)
cut from the HBO Max version

Muppets
Hero Guy: Baby Bear gets Hero Guy to turn into a cow but he keeps turning into other animals. Finally he does it but likes being the Hippo. So Baby Bear changes the nursery rhyme.

Animation
Kids talk about what they see in a Kandinsky Painting.
(First: Episode 4004)

Muppets
The Letter of the Day: M
Cookie Monster tries to disguise the Letter M Cookie to prevent himself from eating it.
(First: Episode 3984)

Animation
The letter M in various typefaces.
(First: Episode 2864)

Cartoon
Don't mess with the Mighty M.
Artist: Bruce Cayard
(First: Episode 1578)

Film
On the farm, a boy enjoys a glass of MILK.
(First: Episode 3277)

Muppets
The Spanish Word of the Day: leche
Rosita drinks the word leche, the Spanish word for "milk."
(First: Episode 3988)
cut from the HBO Max version

Muppets
Elmo's World: Birthdays
(First: Episode 3940)

SCENE 3
Bert tries to announce the sponsors, but doesn't have any visuals. A Honker gifts him with a letter M and a number 4.
Alterations
Picture
Segment
Description

Film
A girl floats around in a circle.
(First: Episode 3130)
This segment replaced the "Happy Birthday" animation in the HBO Max version.
External Links