Line 1:
Line 1:
−

{{episodebear|image=|airdate=September 16, [[2002]]|writer=[[Claudia Silver]]|director=[[Mitchell Kriegman]]|theme=Teachers}}

+

{{episodebear|image=|airdate=September 16, [[2002]]|writer=[[Claudia Silver]]|director=[[Mitchell Kriegman]]|theme=Teachers}}

−

[[Image:Mouseschool.jpg|thumb|300px]]

 
 

[[Tutter]] is getting ready to start [[Mouse School]]. His teacher, [[Miss Maxwell]], is coming to visit him at the [[Big Blue House]]. Tutter is excited about the visit, but worries over things like what tie he should wear and how he should introduce himself. Then, [[Ojo]], [[Pip and Pop]] tell him that he'll have to know a lot to go to school, and he begins to worry that he's just not ready. As he frets, [[Treelo]] helps [[Bear]] to make a cake. And when they all pay a visit to the [[General Store]], Pip and Pop note the training wheels on Ojo's bike. Worried they make her seem like a little bear, she borrows Bear's wrench to remove them.

 

[[Tutter]] is getting ready to start [[Mouse School]]. His teacher, [[Miss Maxwell]], is coming to visit him at the [[Big Blue House]]. Tutter is excited about the visit, but worries over things like what tie he should wear and how he should introduce himself. Then, [[Ojo]], [[Pip and Pop]] tell him that he'll have to know a lot to go to school, and he begins to worry that he's just not ready. As he frets, [[Treelo]] helps [[Bear]] to make a cake. And when they all pay a visit to the [[General Store]], Pip and Pop note the training wheels on Ojo's bike. Worried they make her seem like a little bear, she borrows Bear's wrench to remove them.

 
 
Line 6:
Line 5:
 

*(Take It) Step By Step

 

*(Take It) Step By Step

 
 
−

{{nav|episode|prev=[[Episode 402: Welcome to Woodland Valley (2)|Welcome to Woodland Valley (2)]]|next=[[Episode 404: The First Day at Mouse School|The First Day at Mouse School]]}}

+

{{nav|episode|prev=[[Episode 402: Welcome to Woodland Valley (2)|Welcome to Woodland Valley (2)]]|next=[[Episode 404: First Day at Mouse School]]}}

−
 
−
 
 

[[Category:Bear in the Big Blue House Episodes|403]]

 

[[Category:Bear in the Big Blue House Episodes|403]]
---
Revision as of 07:46, 11 June 2018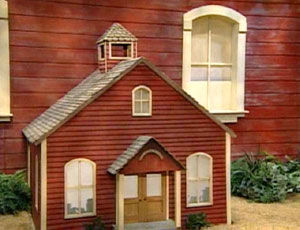 Tutter is getting ready to start Mouse School. His teacher, Miss Maxwell, is coming to visit him at the Big Blue House. Tutter is excited about the visit, but worries over things like what tie he should wear and how he should introduce himself. Then, Ojo, Pip and Pop tell him that he'll have to know a lot to go to school, and he begins to worry that he's just not ready. As he frets, Treelo helps Bear to make a cake. And when they all pay a visit to the General Store, Pip and Pop note the training wheels on Ojo's bike. Worried they make her seem like a little bear, she borrows Bear's wrench to remove them.
Songs
Community content is available under
CC-BY-SA
unless otherwise noted.