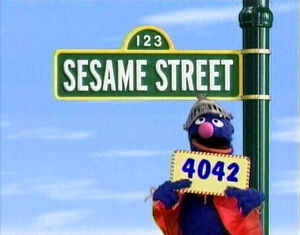 Picture
Segment
Description




SCENE 1
Elmo and Gordon are going to a baseball game and Gordon recommends that Elmo leave Dorothy behind. Elmo needs someone to take care of her while he's gone and serve as her "fish-sitter." News travels fast, as Telly and Baby Bear soon appear and offer to watch her. Dorothy "tells" Elmo she's more comfortable with one fish-sitter, but now Telly and Baby Bear can't agree on who will do it.

SCENE 1 cont'd
Dorothy says there's a lot to know when taking care of her. Elmo shows them how to properly feed her, then tells them she likes fish songs. Baby Bear proceeds to sing "Twinkle Twinkle Little Fish," while Telly creates "Old MacDonald Has a Fish."

SCENE 1 cont'd
Elmo tells them now that Dorothy likes when people make funny faces at her. Telly and Baby Bear make their own, then up their antes with funny costumes and pratfalls. Elmo and Dorothy crack up, but they stop when the two start a fight. They realize the error of their ways and reaffirm their friendship.

SCENE 1 cont'd
Gordon is relieved to hear Dorothy has made a decision: Elmo, claiming to only be comfortable in his care. Gordon sees how sad everyone has become and decides to bring Dorothy along too. Since he has extra tickets, he also invites Baby Bear and Telly, who rush off to bring their pets as well.

Song
"It's Fido's Birthday" - a song about a birthday party for a goldfish.
(First: Episode 3609)

Muppets / Celebrity
Humphrey and Ingrid hire Fran Drescher as Baby Natasha's nanny. But instead of going to work, Humphrey and Ingrid don't want to miss all the fun -- so they stay home with Natasha and Fran.
(First: Episode 3786)

Muppets
The Number of the Day: 12
After Count von Count learns that 12 is the number of the day, a tap dancing number 12 appears.
(First: Episode 4001)

Film
Milo Counting: 12
(First: Episode 3568)

Animation
Martin P. Robinson (in an English accent) and a girl count 12 flowers by 2s.

SCENE 2
Baby Bear and Ralphie sing about being different and the same, with Big Bird's help.

Film
Kenya and Cherie are friends, even when they disagree about how they do their hair.
(First: Episode 3834)

Muppets
Journey to Ernie: Rubber Duckie Land — Big Bird searches for Ernie in a land filled with Rubber Duckies.

Muppets
Ernie sings "Rubber Duckie."
(First: Episode 3842)

Muppets
Hero Guy
Hero Guy has to rescue the kitty drawn in the tree, but the kitty is afraid.
(First: Episode 3922)

Cartoon
A girl brings her pet iguana to school for show and tell.
(First: Episode 3757)

Muppets
The Letter of the Day: K
To prevent himself from eating it, Cookie Monster sends the Letter K Cookie away on the Letter K train. However, the train arrives back a few moments later.
(First: Episode 3989)

Film
A big K emerges, "Jaws"-like, in a swimming pool.
(First: Episode 3326)

Animation
"k" for king, kiss and key
(First: Episode 3084)

Muppets
The Spanish Word of the Day: feliz
Maria, Luis, and Slimey are all "feliz" (happy). Oscar is also feliz, but doesn't want anyone to know.

Muppets
Elmo's World: Fish
(First: Episode 3981)

SCENE 3
Baby Bear and Ralphie disagree over what today's sponsors are, but Big Bird points out Ralphie's answers are correct.