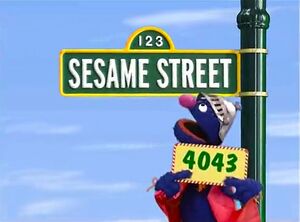 Picture
Segment
Description




SCENE 1
Elmo and Zoe are putting on a circus. Zoe is the ringmaster, Elmo is a lion tamer and Rocco is a clown. A brief interruption by Big Bird (as an attraction to the circus) presenting the letter L, Zoe and Elmo return to the "ring" to discover Rocco is missing, thus Zoe and Elmo becoming "Circus Detectives" to look for the missing Rocco. They search all over Sesame Street for Rocco, asking a chicken, but getting no help, and asking Horatio, only to find he has a bowling ball pretending to be a detective pretending to be a clown. Later still, a disappointed Zoe and Elmo tell Big Bird about the missing Rocco, mentioning asking a chicken, when Big Bird tells them it's important to understand what she "bawked". Going back and asking again, Big Bird translate that the chicken hasn't seen a rock pretending to be a clown, but rather an egg pretending to be a rock pretending to be a clown. The chicken reveals her "egg", but it is, in fact, Rocco, which makes Zoe happy, but the chicken sad, until she lays an egg of her own.

Film
A girl named Shirley performs in the circus; her father is Ringling Bros. clown David Larible. Other acts in the circus include elephant training and elephant jumping.
(First: Episode 3529)

Muppets
On a vaudeville stage, Herry Monster sings "Big Round Nose" with three monsters and a Honker as visual aids.
(First: Episode 3806)

Muppets
The Number of the Day: 13
13 dancing vegetables show up after The Count learns that the number of the day is 13.
(First: Episode 3986)

Cartoon
Jerry Nelson sings and counts thirteen turkeys.
(First: Episode 2711)

Cartoon
Finding a 13 on a computer screen
(First: Episode 3936)

Muppets / Celebrity
Béla Fleck performs a concerto for banjo and two chickens.
(First: Episode 3842)

Animation
A stack of blocks arranges itself in conjunction with another stack.

Muppets
Journey to Ernie: Shape Land — Big Bird hunts for Ernie in a land full of floating geometric shapes. Telly Monster appears hanging out in his favorite shape: a triangle.
(First: Episode 4037)

Muppets
Ernie & Bert — Bert can't decide which hat to wear to the Pigeon Lovers' meeting.
(First: Episode 3973)

Muppets
Global Grover
Grover returns from Nicaragua carrying bricks that he made himself. He shows a film of his friend Gilberto making his own bricks. (First: Episode 2744)
When the film finishes, Grover reveals his own brick and becomes frustrated when it won't say hello.

Cartoon
Global Thingy:
Global Thingy Builds A Tower

Muppets
The Letter of the Day: L
Cookie Monster thinks that singing can stop him from eating the Letter L Cookie.
(First: Episode 3981)

Animation
L Fun Factory
(First: Episode 3216)

Film
The letter L dances at the beach.
(First: Episode 3573)

Muppets
Spanish Word of the Day: gato
A cow tries to help Rosita by illustrating gato, but she isn't a cat. Suddenly Little Murray Sparkles comes by and Rosita replies that this is what gato is.
(First: Episode 3985)

Muppets
Elmo's World: Pets
(First: Episode 3918)

SCENE 2
Zoe concludes the episode by having Rocco present the letter and the number of the day (painted on either side), and remarking how clever he is, much to Elmo's frustration, as he continuously exclaims, "But Rocco is just a rock!"
Community content is available under
CC-BY-SA
unless otherwise noted.