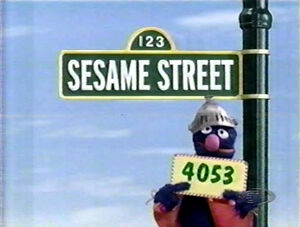 Picture
Segment
Description




SCENE 1
Big Bird greets the viewer as he makes his way to the tree, where he and Snuffy will be meeting for their playdate. As he stands and waits next to it, Elmo zips through, pretending to drive a racecar. When Snuffy still hasn't arrived, Big Bird believes waiting on the other sides of the tree will bring Snuffy over. Oscar tells him to get lost, but Big Bird insists on waiting by the tree as per his plan. Oscar points out that there's another tree he could wait by, successfully convincing Big Bird to move.

SCENE 1 cont'd
Oscar now believes he has peace and quiet, until Elmo drives in to show how he can be next to Oscar's trash can.




SCENE 1 cont'd
Big Bird reaches the tree in front of Hooper's Store, but realizes that while he's been gone, Snuffy might have gone to the tree in front of 123 Sesame Street. He makes his way between both trees several times, believing to have missed Snuffy each time. Miles and Gabi find him waiting and suggest he call him on the phone. Big Bird borrows Gabi's cell and calls Snuffy's cave, but reaches the answering machine and leaves a message about his current location. They invite him to Hooper's for a snack, but Big Bird can't leave his post. He requests that they bring him a birdseed milkshake as he waits.




SCENE 1 cont'd
Elmo zooms by as Big Bird finishes his milkshake and offers to wait with him. The two start to "la-la," eventually to the tune of "Sing." Snuffy finally arrives, having heard Big Bird's message. He reminds Big Bird of their conversation from this morning, where Snuffy explicitly mentioned they would have their playdate tomorrow. They decide to stand and wait by the tree until tomorrow comes...whenever that may be.

Film
The kids talk about some of the feelings they have. (Elmo's intro removed)
(First: Episode 3922)

Muppets
Miles sings "ABC Hip Hop" with Herry Monster, Telly, Grover, Zoe, Elmo, Rosita, Cookie Monster, and two other monsters.

Muppets
The Number of the Day: 16
A beauty queen 16 appears after 16 is announced to be the number of the day.
(First: Episode 3997)

Animation
Monty counts 16 flowers by 2's in voiceover.

Insert
None, some and all of the dancers dance as Big Bird narrates.
(First: Episode 3360)

SCENE 2
Big Bird and Snuffy are still waiting for tomorrow, when Elmo and the kids invite them to sing "Sing." The two confirm with Gabi that they have enough time between now and tomorrow to sing it. Together, they all sing "Sing," as Gabi provides Spanish translations.

Film
Five girls play a clapping game.
(First: Episode 2763)

Muppets
Journey to Ernie: Musical Instrument Land
(First: Episode 4031)

Muppets
Ernie has Grover assist him in demonstrating opposites in song, but Grover suffers more than Ernie does.
(First: Episode 3780)

Muppets
Hero Guy
Baby Bear gets distracted and draws Hero Guy with a Super Big Hand by accident. Now Hero Guy can play basketball faster and squeeze lemons for lemonade.
(First: Episode 3965)

Muppets
The Letter of the Day: P
Since P begins the word "Prairie", Prairie Dawn does not want Cookie Monster to eat the letter of the day, so she puts a blindfold on him. She should have plugged his nose, too, since he still finds it.
(First: Episode 4003)

Film
Wegman's dogs form a letter P.
(First: Episode 3330)

Cartoon
P for paper, point, poke, paint, pat, peel
(First: Episode 3066)

Animation
"Letter P Menu"
(First: Episode 3558)

Muppets
Professor Grover calls the kids into his courtyard classroom, to learn the Spanish word escuela. He says that the word means where they are now, a "fish bowl", to which kids reply "no!", and reply that it means "school". After class is dismissed, a yellow and orange fish swims up to Grover, asking if he was late for escuela. Grover shrugs, as the two look towards the camera, commenting, "Well, fish do swim in schools."

Muppets
Elmo's World: Families
(First: Episode 3975)

SCENE 3
At night, Big Bird and Snuffy continue to wait. They reiterate today's letter of the day, while Elmo drives by, wearing the number 16.