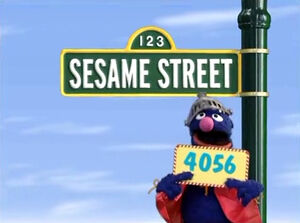 Picture
Segment
Description




SCENE 1
Telly quickly tells Dylan and a Honker to tell their families about Sesame Street's newest baby - Curly Bear. Then, he hears moaning and Baby Bear arrives, who is a "wee-little wreck" because of the new baby. As they walk down the street, he tells Telly that the moment she got home, he hasn't received much attention from Mama Bear and Papa Bear and the attention he has gotten has been less than useful (in brushing his teeth and putting on his PJs). He is even upset by the fact that his family bedtime song has been altered to include Curly.




SCENE 1 cont'd
The two have now reached the park, where Telly admits he'd love to have a baby sister. Baby Bear continues that he hasn't even gotten to spend some father-and-son time with Papa Bear because of Curly and his new job to help support her. Just then, Papa Bear shows up to spend time with him. Baby Bear confesses his problems to him and Papa Bear assures he will always have time and love for both his children, singing "Different People, Different Ways."

SCENE 1 cont'd
Mama Bear arrives with Curly Bear, who grabs hold of Baby Bear's ear. He takes this as a sign of her love and begins to warm up to having her around.

Animation
Kids talk about families, often mentioning having rhinoceroses as pets.
(First: Episode 2759)

Muppets / Celebrity
Elmo wants to play with the Two-Headed Monster, but they can't decide on whether to play baseball or hockey. Aaron and Nick Carter pass by and are told what's happening, which the brothers can relate to. They sing "Loud and Soft", and sing of their differences. This resolves the monster's argument; now they want to sing! But what can they sing? They start arguing again!

Muppets
The Number of the Day: 4
Four Honkers (including Mr. Honker) show up after learning that the number of the day is 4.
(First: Episode 3982)

Film
Four kids dance in a colorblock grid.
(First: Episode 3149)

SCENE 2
Baby Bear tries to wrap his head around being the "Four Bears" by counting his family different ways, trying to make them the "Three Bears" again. Telly shows up to help count. Baby Bear accepts that no matter how they're counted, they'll stay four and heads off to play with his best friend.

Song
Stephanie D'Abruzzo and John Tartaglia sing about "Brothers and Sisters."

Muppets
Journey to Ernie: Jungle
Big Bird looks for Ernie in a jungle.
(First: Episode 4033)

Muppets
Ernie's Show and Tell:
Devon shows Ernie his family picture that he made using popsicle sticks.
The opening introduction is cut
(First: Episode 4013)




Muppets
Global Grover: Grover returns from Egypt with his camel Sidney. In his film, Achmed visits his cousins and works on a farm. Afterward, he prepares to eat the basket of lunch that he brought back...but Sidney ate it all!




Cartoon
Global Thingy
In a movie parody of Braveheart, Global Thingy stops a fight between two groups of Thingies.

Muppets
The Letter of the Day: Z, part 1
Cookie Monster stops himself from eating the Letter Z Cookie, for now.
(First: Episode 3986)

Animation
A television reveals many Z words.
(First: Episode 3699)

Muppets
The Letter of the Day: Z, part 2
Cookie builds a Great Wall of Cookie to separate himself from the Letter Z Cookie.
(First: Episode 3986)

Cartoon
Z doesn't like its sleepy Z image -- Z can also be zany, and zip and zoom.
Artist: Fred Garbers
(First: Episode 3607)

Muppets
The Letter of the Day: Z, part 3
Cookie busts through the brick wall and eats the Letter Z Cookie.
(First: Episode 3986)

Muppets
The Spanish Word of the Day: Feliz
Oscar the Grouch does not like the fact that the Spanish word of the day, feliz, means "happy", though he is happy that Slimey (who is playing in the mud) is feliz.
(First: Episode 4042)

Muppets
Elmo's World: Babies
(First: Episode 3854)

SCENE 3
Curly is holding onto Baby Bear's ear again. Hoping to make her let go, he tells her something important - the sponsors. It does not work.
And so ends the 34th season of Sesame Street.