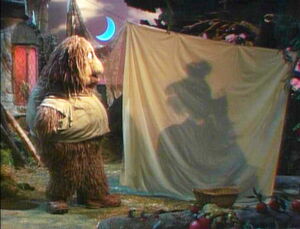 On the night of the Blue Moon, Junior Gorg is summoned by a mysterious figure to play the Royal Kazoo. If he succeeds, he'll prove himself to be worthy of the crown. If he fails, he'll be banished for a hundred years. Cantus the Minstrel gathers Gobo Fraggle, Wembley Fraggle, Mokey Fraggle, Red Fraggle, and Boober Fraggle to be witnesses.
Meanwhile, Doc and Sprocket wonder what Ms. Ardath wrote about Doc in her letter of recommendation which will be given to Mrs. Faith at the radio station.
Notes
Bob Stutt performs Boober Fraggle in this episode lip-synched to Dave Goelz's voice.
This is the second and last episode in which Cantus is not accompanied by the other minstrels.
Supporting cast
Songs
Video releases