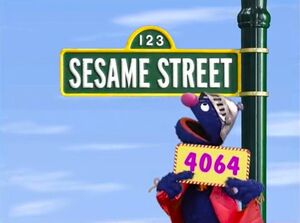 Picture
Segment
Description

COLD OPEN
My Favorite Sesame Street Moments
Elizabeth Shehane talks about her love for Sesame Street music.

SCENE
At the park, Elmo begins welcoming the viewer, but is then tackled by Zoe, who's been practicing a dance Rocco made up, which Elmo finds hard to believe. Zoe shows Elmo the first part of the dance, which hooks him in. However, Rocco doesn't believe Elmo can do it, so Elmo proves it by doing the dance with Zoe. However, after they dance, the rock criticizes Elmo's "doty, doty doty"'s and reveals there's more to the dance.




SCENE cont'd
For the next part, Zoe yells for everyone to grab their elephants, but Elmo doesn't know where to find one, until The Elephant dances in and gladly participates, having a life-long dream of dancing like Rocco. However, during the "Shoobie, Doobie Doo" part, the elephant knocks Elmo over. Elmo tries switching places with Zoe, but still gets pummeled and criticized by Rocco.




SCENE cont'd
For the next part, Zoe claims it's time to tango with chickens. A pair of fowls (Eric Jacobson and Carmen Osbahr) barge in and begin the tango, with Elmo's partner dropping him on the dip. Zoe claims the dance is over, which Elmo makes him excited at first, but then pretends to be sad for Zoe and wishes there was more. He then "hears" Rocco tell him there's still another part of the dance, this one involving pigs. Zoe doesn't know where they'd find pigs, until Rocco gives them an idea...

SCENE cont'd
They head over to Oscar's trash can. He refuses to let them dance in his can, but changes his mind when he hears there's a pig involved. Inside the trash can, they struggle to find the pig and begin dancing, then launch themselves out via his trampoline.

SCENE cont'd
Gordon rushes over to make sure the kids are alright. Much like Elmo's reaction earlier, Gordon is surprised Rocco can dance. They show Gordon the dance, but he becomes shocked when a herd of elephants head over for the "elephant" portion of the dance.

Film
Dan Zanes and friends perform "Jump Up."

Insert
None, some and all of the dancers dance as Big Bird narrates.
(First: Episode 3360)

Muppets
The Letter of the Day: A
Prairie Dawn encourages Cookie Monster to think of words that begin with "A." She can't keep him from eating the letter in question, though, much to her "a"ggravation.

Cartoon
A man names various A words. (Cliff Roberts-inspired animation)

Film
A for action, acrobat, art, artichoke, and applause.
(First: Episode 3266)

Muppets
Spanish Word of the Day
Rosita offers her elephant friend un abrazo. The elephant is surprised to learn that abrazo means "hug", but then offers Rosita un abrazo in return.

Animation
Mannequins in a store window dance.
(First: Episode 4050)

Insert
Gabi plays a follow-the-leader game with Zoe, Elmo, Rosita and the kids.

Cartoon
An animated lion sings "Dance Myself to Sleep."
Artist: Sally Cruikshank
(First: Episode 3848)

Muppets
Journey to Ernie: Rhyming Playground

Muppets
Ernie and Bert:
Ernie keeps Bert awake at night singing "What's the Name of That Song?."
(First: Episode 3840)

Muppets
Global Grover
Grover returns dancing from Russia and shows a film of a boy who attends a Russian dance school. After the film, Grover continues practicing the dance when two Russian dancers appear, squish Grover between them and begin dancing back to Russia.




Cartoon
Global Thingy
Lizard Thingy is laughed at for Irish dancing.

Muppets
The Number of the Day: 1
After practicing a few times, The Count hits an organ key, and the number is one. One elephant appears.
(First: Episode 4000)

Cartoon
Number Guy sings "How Many Birds Can Fit on This Wire?" One bird provides the answer.
(First: Episode 3338)

Film
Wegman dogs: Batty and Crooky stack wood blocks to make the number 1. (new graphics)
Original version: (First: Episode 4000)

Muppets
Elmo's World: Dancing
(First: Episode 3801)

Insert
The Adventures of Trash Gordon
Chapter 648
Trash feeds a big smelly fish to a gang of hungry penguins.