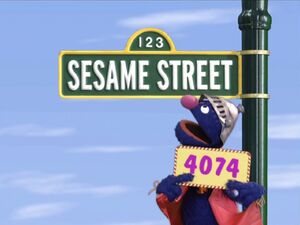 Picture
Segment
Description

Intro
My Favorite Sesame Street Moments: Larry King's favorite moment has nothing to really do with the show itself, but instead with watching his kids and grandkids watch the show. Various clips of the show play, underscored by Sing.

SCENE
Alan is busy frosting a cake, when he notices the viewer and welcomes them to Sesame Street. He mentions that it's Henrietta Honker's birthday and they'll be having the party at Hooper's Store. Suddenly, Telly comes in, excited. He tells Alan about a special offer he saw on The Alphabet Channel for free membership in the "Letter of the Month Club," where members receive a letter from the alphabet each month until they have the complete set. Telly, who recently signed up, eagerly awaits his first letter arriving today.

SCENE, cont'd
Just then, a deliveryman arrives, saying that he's looking for "1304 Sesame Street." The deliveryman, who introduces himself as Vinny, brings Telly his first letter, A. Telly comments on how shiny the letter is, and Alan notices how light it is. Vinny adds that it's made out of aluminum, which starts with A.

SCENE, cont'd
Vinny observes how much Telly appreciates his first letter, and mentions that he has an extra B on the truck that he could give away a month early. Telly accepts it and Vinny brings him the B, which has a button that makes a bell sound when pressed. Overhearing how excited Telly is to get all of his letters, Vinny arranges for Telly to get them all at once and rushes off.




SCENE, cont'd
Big Bird arrives, unsure of what he wants for breakfast. Alan gives him a menu to help him decide. Meanwhile, Vinny returns with the letters, C, D, E, F, and G, which are also functional:

C has a sound clip of Cookie Monster saying "C is for Cookie."
D has a sound clip of a voice saying, "D…d…Dog" when the button is pressed.
E makes an elephant trumpet sound when the switch is lifted.
F is covered in fur.
G has a sound clip of a voice saying "Achoo! Gesundheit!"

SCENE, cont'd
Then, Vinny hauls in a huge, hairy letter H, that lets out a series of happy laughs when its button is pressed. Alan starts to become concerned with how crowded Hooper's Store is getting. Big Bird meanwhile is stuck on whether he wants a birdseed muffin or a birdseed bagel.




SCENE, cont'd
Vinny brings the next set of letters on a hanging mobile; I, J, K, L, M, and N. Vinny then gets an emergency call and dashes off to help a kid who broke the points off his F. Alan explains to Telly that there's no room in the store to have Henrietta's party. They agree that they need to contact Vinny to stop bringing in letters, so Alan finds the paper that Telly signed and dials the number on it.




SCENE, cont'd
Vinny rushes to and from the Letter of the Month Club office, repeatedly leaving Alan on hold to fulfill Telly's full order. Back at Hooper's, Vinny brings in the letters O, P, Q, R, and S on a spinning wheel, and then T, U, and V on sticks.

SCENE, cont'd
The Honker family arrives, impatiently waiting for the party to start. The father Honker comes in to talk with Alan and accidentally knocks over some of the letters, creating a noisy ruckus. Amidst the chaos, Big Bird finally decides on the bagel.

SCENE, cont'd
Vinny places the remaining letters, W, X, Y, and Z in picture frames on the wall. Alan and Telly stop Vinny before he leaves. Telly admits that while he loves the letters, he wants Vinny to take them away so Alan can have his store back, and Henrietta can have a place for her party.

SCENE, cont'd
Vinny complies and, in a flash, he takes all the letters from Hooper's Store. Telly mopes that the letters are gone, and Alan tries to cheer him up by singing "The Alphabet Song" with him. Vinny returns once more and mentions that because Telly was one of the first people to sign up for membership, he gets a bonus gift: a miniature collection of the alphabet set, including a tiny "Gesundheit"-ing letter G.

SCENE, cont'd
The Honkers have their party outside in the arbor. After spending so much time deciding on breakfast, Big Bird settles for a piece of the birthday cake instead. Alan offers Vinny a piece of cake as well, adding that it's "easy as A-B-C."

Animation
Animals and acrobats form letters in the Alphabet Circus.

Muppets
The Letter of the Day: R
Cookie Monster sings a rap song about the letter R, naming R words and singing about how he shouldn't eat the letter of the day while singing the song, but then he finishes the song (and after that, he finishes the cookie).
(First: Episode 3995)

Song
"Letter R Menu"
(First: Episode 3526)

Film
The letter R is made out of rocks, painted, and found on the road.
(First: Episode 3602)

Muppets
The Spanish Word of the Day: feliz
Maria, Luis, and Slimey are all "feliz" (happy). Oscar is also feliz, but doesn't want anyone to know.
(First: Episode 4042)
cut from the Hulu version

Song
"Happy Happiness," against footage of kids playing at a beach.
(First: Episode 3320)




Muppets
Journey to Ernie:
In a surprising departure from the norm, it's a "Journey to Big Bird", as Big Bird hides at the circus and Ernie seeks.
(First: Episode 4058)

Muppets
Muppet & Kid Moment — Ernie presents Richie typing his name on the computer.
(First: Episode 3908)

Muppets
Miles sings "ABC Hip Hop" with Herry Monster, Telly, Grover, Zoe, Elmo, Rosita, Cookie Monster, and two other monsters.
(First: Episode 4053)




Muppets
Global Grover: Grover has surfed back from Hawaii. He narrates his film while footage of a hula party plays. Afterward, Grover remembers that his grass skirt is a rental!
(First: Episode 4054)




Cartoon
Global Thingy
In a movie parody of Braveheart, Global Thingy stops a fight between two groups of Thingies.
(First: Episode 4056)

Muppets
The Number of the Day: 18
A jumping number 18 arrives as the Number of the Day.
(First: Episode 3993)

Cartoon
Eighteen pigs form various acrobatic pyramids.
(First: Episode 4030)

Film
Kid mural painting #18
(First: Episode 3582)

Muppets
Elmo's World: Mail
(First: Episode 4031)

Insert
The Adventures of Trash Gordon
Chapter 648
Trash is chased by a smelly pepperoni and anchovy pizza (with extra garlic), until he boxes it and sends it off to New Jersey.
Cast
Notes
Community content is available under
CC-BY-SA
unless otherwise noted.