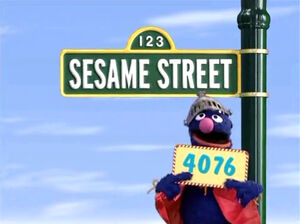 Picture
Segment
Description

COLD OPEN
My Favorite Sesame Street Moments


Dr. Alex Jenny Ky

talks about how Sesame Street taught her the alphabet and numbers through friendly characters. A clip from the season 4 premiere of the characters holding up letters that introduce their names is shown.




SCENE
Baby Bear is showing Curly Bear the things he can do that she can't because she's smaller. He proceeds to sing about it, demonstrating such things as lifting heavy stuff, jumping high and growling loudly, until he gets a load of Curly's growl. Baby Bear notes something's wrong: he's the bigger brother, but he doesn't have the bigger growl. He tries regaining his high role by growling again, but is over-shadowed by Curly's.




SCENE cont'd
Big Bird walks over, having heard Curly's tremendous growl. She blows them away her next one. Baby Bear asks the "Big" expert on how to make a big growl. Big Bird suggests doing what Curly does before she growls. They observe her tugging her ear, sucking her thumb, stretching and finally letting out the huge growl. Baby Bear tries it, but his growl hardly gets bigger.




SCENE cont'd
Professor Gary Gill, a traveling salesman, and his two assistants arrive having heard his problems and offer (in song) a solution – using the letter G, as the word "growl" starts with it. He tells him to imagine a giant G, which would make his growl bigger. However, his growl isn't any bigger, but Curly's humongous growl frightens the salesmen away.

SCENE cont'd
Just then, Papa Bear arrives to get the kids for lunch, when Curly shows off her new growl. Baby Bear confess his problems to his father, who points out that there's nothing to be ashamed of. Instead, he should be proud of her. Papa Bear leaves to fetch his hat blown off by her growl.




SCENE cont'd
Now seeing how special she is, Baby Bear tries to show her off to a passing man, who Curly blows the clothes off with her growl.

Song
Hoots sings "Baby, You're So Smart."

Muppets
Humphrey imagines the possible jobs Natasha will have when she grows older. He envisions her as a doctor, police officer and firefighter.
(First: Episode 3841)

Muppets
The Letter of the Day: "G"
Part 1: Cookie Monster discovers there is no cookie for him ("That funny--propman here usually hand it to me") until a giant one lands into his paws. Trying to sustain himself, he eats the giant cookie.
(First: Episode 4011)

Film
Kids exploring a jungle find a giant "G" swinging on vines.
(First: Episode 3498)
cut from the Sprout version

Muppets
The Letter of the Day: "G"
Part 2: After eating the giant cookie, Cookie Monster grows larger and starts naming G words like "gassy".
(First: Episode 4011)

Animation
Pencil box G / g
(First: Episode 3042)

Muppets
Spanish Word of the Day: gato
A cow tries to help Rosita by illustrating gato, but she isn't a cat. Suddenly Little Murray Sparkles comes by and Rosita replies that this is what gato is.
(First: Episode 3985)
cut from the Sprout version

Film
A boy signs the word cat, and morphs into one.
(First: Episode 3323)

Muppets
Journey to Ernie: Rubber Duckie Land — Big Bird searches for Ernie in a land filled with Rubber Duckies.
(First: Episode 4042)

Muppets
Ernie sings "The Honker-Duckie-Dinger Jamboree."
(First: Episode 1920)




Muppets
Global Grover
Grover has returned from Alaska on a dog sled. He says that winter in Alaska is very cold and is called "ukiuq." The live-action sequence is a song sung by an Inuit Alaskan girl. (First: Episode 2360)
After the video, Grover announces that he is ready to go and rest, but his dog tells him that he wants to go back to Alaska immediately, and he pulls Grover back towards Alaska.
(First: Episode 4038)




Cartoon
Global Thingy
When two thingys loose their ping-pong ball in a fish bowl, Global Thingy helps solve the communication barrier.
(First: Episode 4051)

Muppets
The Number of the Day: 20
A huge monolith of the number 20 arrives because 20 is the Number of the Day.
(First: Episode 4006)

Cartoon
Counting 20 fish

Muppets
The Count directs Liam Neeson counting to 20, several times, in "Translyvania 6-5000." The shoot evolves into "Counting in the Rain."
(First: Episode 3806)

Muppets
Elmo's World: Ears
(First: Episode 4032)

Insert
The Adventures of Trash Gordon
Chapter 269
Trash Gordon pretends to be a kitty cat to scare away a giant grumpy guppy.
Alterations
Picture
Segment
Description

Song
"Big G and Little G"
(First: Episode 3397)
This segment replaces the jungle G insert in the Sprout version