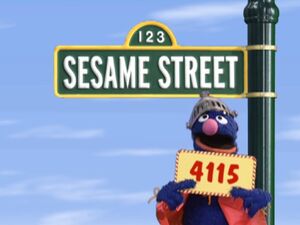 Picture
Segment
Description

COLD OPEN
Today on Sesame Street, you could meet a clumsy camel, rhyming farm animals or Matt Lauer!
cut from the HBO Max version

SCENE
Luis and Maria welcome the viewer. It's their wedding anniversary, and they celebrate by having a picnic in a quiet spot.




SCENE, cont'd
Their quiet is soon interrupted when Big Bird, Elmo, and Zoe walk by to sing about the letter of the day. They proceed in a song about the letter H, while Luis and Maria look on skeptically.




SCENE, cont'd
After concluding part one of their song, Big Bird notes that it's time for part two. Three children join them and they repeat the melody, simply laughing instead of singing. Luis tells Maria that they need to find a new place for their picnic, and they sneak away.




SCENE, cont'd
Now situated in a new spot, Luis and Maria look forward to having a quiet picnic alone. H-Man pops up, however, prompting them with undue attention when they utter the words "honey" and "huh."

SCENE, cont'd
Big Bird, Elmo, and Zoe walk over, thanking H-Man for coming, and he prepares to host the "Sound of H Game." Luis and Maria are invited to play, and they reluctantly agree.

SCENE, cont'd
H-Man presents a grid of four objects and sings a version of "Three of These Things." Big Bird, Elmo, and Zoe isolate the helicopter, hippopotamus, and hexagon from the ball, and win the game.




SCENE, cont'd
Rather than saying goodbye, H-Man brings in Herb, Helen, Harold, and Hanna Honker. As they hop and honk, Luis and Maria again elect to sneak away.




SCENE, cont'd
Having scouted out a new picnic location, Luis and Maria breathe a sigh of relief and wish each other a happy anniversary. Their serenity again disappears, however, when Big Bird and Mr. Snuffleupagus walk in. Out of desperation, Luis directs them not to carry out their Letter H Dance in their presence, and notes again that they want time alone together.




SCENE, cont'd
As Big Bird and Snuffy leave to dance the hula, Maria notes that the dance is her and Luis' favorite, and that they engaged in it on their honeymoon in Honolulu, Hawaii. Now having reconsidered, they join the others in their dance and elect to have their picnic later.

Cartoon
Leanna Williams tells a story of how she traveled to Hawaii and bought a Hawaiian shirt. (new music and sound effects added)
Artist: ArtistMike
(First: Episode 2745)

Song
"Happy Happiness," against footage of kids playing at a beach.
(First: Episode 3320)

Muppets
The Letter of the Day: H
Cookie Monster decides to hide the letter H cookie. He then finds a place to hide it: In his tummy!
(First: Episode 4001)

Cartoon
Henry and Hillary have a holiday picnic with the letter H.
(First: Episode 4048)

Film
Letter Garden: H
(First: Episode 3016)

Cartoon
One man asks another how he likes his hat.
(Cliff Roberts-inspired animation)
(First: Episode 4071)

Cartoon
"Banana Samba" (short version)
(First: Episode 2920)

Celebrity / Muppets
Matt Lauer interviews Cookie Monster and inquires into why he has stopped eating cookies. He maintains that while he does like fruit, he still likes cookies as well.

Animation
Traction Jackson:
TJ corrects Bernie about his junk food habits, singing "Fruit Snack Samba" in a lively tribute to fruit.
(First: Episode 4089)

Muppets
Broccoli asks Camaria questions about her favorite fruit.

Muppets
Ernie and Bert:
Alone in the park with no one to play with, Ernie sings "Somebody Come and Play."
(First: Episode 3822)

Cartoon
"This is the Game Today"

Animation
A child makes a pattern of giraffes and elephants.

Transition
Bouncing ball

Animation
A pattern of yellow and red birds




Muppets
Global Grover:
Grover has surfed back from Hawaii. He narrates his film while footage of a hula party plays. Afterward, Grover remembers that his grass skirt is a rental!
(First: Episode 4054)




Film
The Number of the Day:
A remake of the Number Song Series brings forth 3.
(First: Episode 4096)

Film
Song: It's number 3 (on trike/on hike)
(First: Episode 3136)

Film
Three Wegman dogs are arranged in different ways.
(First: Episode 3312)

Muppets
Elmo's World: Wild Animals
(First: Episode 4038)

Insert
The Adventures of Trash Gordon
Chapter 692
On Planet Upside-Down, Trash turns himself upside down to avoid frightening the Upside-Downians.
Notes