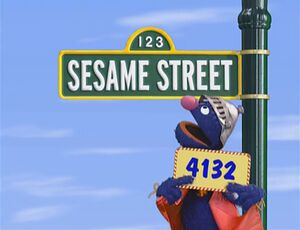 Picture
Segment
Description




SCENE
Gina welcomes the viewer to Sesame Street. A pair of dancing pigs (Joey Mazzarino and Fran Brill) ask her when she'll be going back to work. Big Bird and Snuffy stop by, and want to play with Marco. They suggest baseball, roller skating, pogo stick jumping, and checkers as activities...but Marco's not old enough yet.




SCENE, cont'd
Gina suggests that Big Bird and Snuffy need to "think like babies" to imagine appropriate activities. They do so, and decide to play peek-a-boo.

SCENE, cont'd
As Gina feeds Marco, Mr. Snuffleupagus notes that his mom used to sing him an eating song while his dad played the tuba. They then sing "Eat, Eat, Eat."

SCENE, cont'd
Big Bird and Snuffy are now hungry. Gina notes that she has enough mashed bananas for everyone, and they both try the food.

SCENE, cont'd
Big Bird recalls that his granny used to play an animal game with him. He, Snuffy, and Gina then recite animal sounds while trying to guess each other's.




SCENE, cont'd
Big Bird and Snuffy then discuss naps, promptly falling asleep. Gina comments on how well they think like babies, and tells Marco that one day he will play baseball with them.

Song
"Beautiful Baby" (remake)
(First: Episode 3549)




Muppets
As Mr. Johnson reads at home, Grover bursts in with a bullhorn introducing "Outrageous Makeover: Home Addition." Under Grover's guidance, three workers (bearing a striking resemblance to Biff, Sully, and Stella) rearrange his furniture and add three doors to the room. They then remove all the doors, forcing Grover to stay.

Muppets
The Letter of the Day Games: Y
Cookie Monster finds a yo-yo, yam, and yawning girl in one minute.
(First: Episode 4098)

Film
Y, Y, The Letter Y: kids form Y with their bodies.
(First: Episode 3988)

Cartoon
Planet Y / y
(First: Episode 2859)

Celebrity
Norah Jones sings "Don't Know Y" with Elmo.
(First: Episode 4081)

Cartoon
Healthy Food Song: Artichoke
(First: Episode 4099)

Insert
Big Bird helps present the Sign Language Moment of the Day, "jump."
(First: Episode 4099)

Song
"Jump" (soul)
(First: Episode 3136)

Muppets
Muppet & Kid Moment — Murray Monster and Skai dance.

Muppets
Ernie & Bert: Ernie sings "I Love My Toes", about how amazing his toes are. Bert is inspired by his own toes, but Ernie has gone to sleep. So, he shares his newfound fascination with Bernice on the windowsill.
(First: Episode 4092)

Cartoon
"This is the Game Today"

Cartoon
Counting fingers

Transition
Bouncing ball

Cartoon
Counting toes
(First: Episode 4117)




Muppets
Global Grover: Grover returns from Germany with a bundle of reeds. In his film, Paul's father helps make a thatched roof. Afterwards, Grover has built himself a thatched hat similar to a birdhouse roof...attracting the attention of all birds in the vicinity.




Film
The Number of the Day: A remake of the Number Song Series brings forth 5.
(First: Episode 4087)

Cartoon
A girl's mom can dribble 5 balls.
(First: Episode 3448)

Film
Two girls clap out five.
(First: Episode 3007)

Cartoon
A chorus of 5s come out of a 5 painting.
(First: Episode 3300)

Muppets
When Telly wants to play, he says "Let's play!" When Rosita wants to play, she says "¡Vamos a jugar!"
cut from the online version

Muppets
Elmo's World: Games
(First: Episode 3967)

Insert
The Adventures of Trash Gordon
Chapter 842
On the planet Fairytale, Trash contacts Little Bo Peep by interstellar cell phone to bring her sheep home.
Trivia