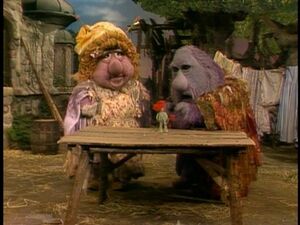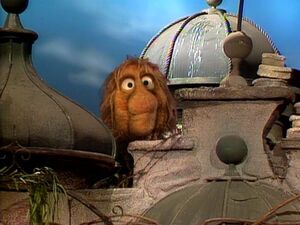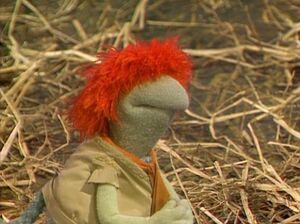 After being hit on the head by an exploding radish, Boober gets a case of amnesia. Trying to jog his memory, his friends take him out to the Gorgs' Garden, where things look so familiar that he decides that he's a Gorg. When Ma and Pa Gorg can't find Junior, they come to believe that Boober is their son transformed into a Fraggle by an evil sorcerer (whom is mentioned in "The Encyclopedia of Gorgish Myth and Wisdom" to reappear in their neighborhood on a specific day) and struggle to accept the changeling as the heir to the Universe.
Meanwhile in Outer Space, Sprocket pretends to be a cat in order to comfort Ned Shimmelfinny while Fluffinella is at the vet.
Notes
Note that Junior in the scene when he appears on the castle rooftop - it's not the regular Junior Gorg, but a hand puppet (first used in "The Minstrels") similar (though not identical) to the one used in "The Gorg Who Would Be King."
Boober can be seen stuck in a bowl of "Kellogg's Honey Smacks," while thinking he is Junior Gorg.
Fraggle Facts
In this episode, Pa Gorg consults a text called "The Encyclopedia of Gorgish Myth and Wisdom."
Ma and Pa Gorg make reference to a swamp within walking distance of their castle.
Songs
Video releases
Community content is available under
CC-BY-SA
unless otherwise noted.