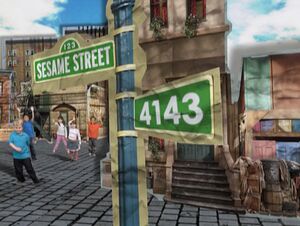 Picture
Segment
Description

COLD OPEN
"What's the Word on the Street?" -- ticklish




SCENE
Gordon and Maria step outside laughing at a joke Maria just told, and welcome the viewer. Oscar and Grundgetta tell them to keep it down, because they're reading Grundgetta's favorite Grouch fairy tale, "The Tale of Sleeping Grouchy", as Grundgetta calls it, "the grouchiest tale ever told." Slimey is also eager to hear the story. Telly and Elmo also want to hear it (Oscar: "Well, what do ya think, Grungie? Let the little monsters listen in?" Grundgetta: "Never hurts to spread a little grouchiness around."). Now, having Grundgetta's approval Oscar begins to read the story.




SCENE
cont'd
In the story, the very grouchy princess is portrayed by Grundgetta, and her warm, loving, synonym-spouting parents are played by Maria and Gordon, who sing a song about how much they love their daughter.

SCENE
cont'd
One day the grouchy princess goes on a grouchy walk. She says "Phooey!" so many times that it disturbs a wizard who was walking nearby. He casts a spell on her, putting her to sleep for a hundred years!

SCENE
cont'd
Grouchy's parents encounter her sleeping, and become distressed that their daughter is under a spell. The queen gets an idea to offer a big reward for whoever can break the spell.




SCENE
cont'd
The first prince to arrive is Prince Elmo of Ticklania, who will try waking her up with a giant Ticklanian chicken feather.

He demonstrates its effects on the king and queen, then tries it on the princess, not realizing that she's too grouchy to be ticklish - but the feather does make her sneeze. Prince Elmo knows exactly what to do to cheer himself up ...

SCENE
cont'd
The second prince to arrive is Prince Telly of the Tuba, and his back-up band, The Cat's Meow. Since they woke up Rip Van Winkle by playing the tuba and meowing loudly, they figure it'll be a cinch to wake the princess up in the same way. But such is not the case, not even with participation from the viewer.




SCENE
cont'd
The third prince doesn't show up at first, but is revealed to be Prince Slimey. But how can a small worm prince break a spell? Slimey knows how: by giving the princess a sweet, lovable kiss, which he knows she'll hate. It works!

SCENE
cont'd
In return for his heroic deed, Slimey wants not jewels, but mud. He and Princess Grouchy go off to play in the royal mud puddle and live grouchily ever after.

SCENE
cont'd
Telly and Elmo like the happy ending, but was it happy? Oscar and Grundgetta don't think so. As they argue about it, Oscar remarks, "The best part about reading a book is the lively discussion afterwards!"

Song
"Happy Happiness," against footage of kids playing at a beach.
(First: Episode 3320)

Celebrity
Howie Mandel demonstrates the word "ticklish."

Insert
After being tickled, Grover explains to Antonio that tickling is exercise.

Animation
"Dancing with the Flowers"
Artist: Karen Aqua
(First: Episode 4058)

Film
Wegman dogs: The Ten O'Clock Scholar
(First: Episode 3529)

Muppets
Zoe, Telly, and Prairie Dawn sing "That's the Way I Read."
(First: Episode 3651)

Cartoon
Jill walks up a hill to pick a daffodil.
Artist: Jim Jinkins
(First: Episode 2538)

Insert
Rosita helps teach Marco Spanish, and sings "I Love Every Part of You" with Gina.
cut from the HBO Max version

Cartoon
A girl fantasizes what she could do without leaving her room if her nose, ears, legs, and arms got bigger.
(First: Episode 3285)

Muppets
The Letter of the Day: U
Cookie Monster puts the letter of the day, U, on a rocket and sends it away, but it comes back.
(First: Episode 3994)

Song
"My Friend U"
(First: Episode 3705)

Cartoon
An umbrella, gorilla, ambulance, and orange are displayed on the screen. Which begins with the letter U and protects us from the rain?




Muppets
Oscar presents the grouchy theater hit "Scramalot" to a receptive audience. In this parody of Monty Python's Spamalot, the Knights of Scramalot sing and have difficulty rhyming. In the end, instead of continuing the play, the Knights continue to argue.
(First: Episode 4128)

Cartoon
A Zerkel named Dan demonstrates -an words.
Artist: Sally Cruikshank
(First: Episode 3515)

Muppets
The Number of the Day: 20
A huge monolith of the number 20 arrives because 20 is the Number of the Day. (additional organ voices added).
(First: Episode 4006)

Cartoon
Counting 20 fish
(First: Episode 4076)

Song
"OK, We Got a Hip-Hop Beat": #20
cut from the HBO Max version

Celebrity
"Everything's Coming Up Noses!" Harvey Fierstein places noses on a selection of Anything Muppets while singing a song touting the virtues of the body part.
(First: Episode 4063)

Cartoon
Parts of a face are drawn in black on-screen before forming a picture.
(First: Episode 3320)

Muppets
Elmo's World: Noses

Insert
Abby Cadabby recites the sponsors in a pair of rhymes.
Alterations
Picture
Segment
Description

Muppets
Grover sometimes imagines what it would be like if he had a very small nose, a nose so large that the weight of it knocked him over, or the trunk of an elephant. After his nose returns to normal, he wonders why he has a craving for peanuts.
This segment replaced the "I Love Every Part of You" segment in the HBO Max Version.

Animation
A clay animation orange sings "One Fine Face" as fruit forms her features.
(First: Episode 4025)
This segment replaced the "OK, We Got a Hip-Hop Beat" segment in the HBO Max Version.
Community content is available under
CC-BY-SA
unless otherwise noted.