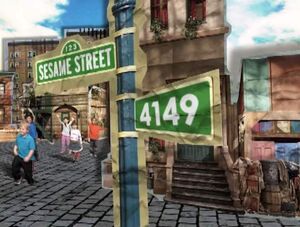 Picture
Segment
Description

COLD OPEN
"What's the Word on the Street?" -- predicament

SCENE
Big Bird and Elmo are excited, because they've got a special song for two friends, which they are. They count each other, and sing "One and One Make Two."

SCENE
cont'd
They almost sing it again, when Abby Cadabby appears in a poof, and asks to join them. Suddenly, Big Bird realizes the song won't work this time, because it's a song for two, and if Abby joins them, they won't be two anymore, but three. What to do? Abby suggests making herself disappear, but that turns out to be not such a good idea.

SCENE
cont'd
The three friends decide they should ask Gabi what they should do. They explain their predicament, and Gabi suggests they sing a song for three instead of two. What a great idea!




SCENE
cont'd
Gabi leaves for class. Now the three friends have another problem: they don't know any songs about the number 3! They try to think of one, and suddenly Abby decides to call on The Three Little Pigs for help! They are of little benefit to the group, as they only know songs about pigs. Suddenly, the Pigs have to run, as the Big Bad Wolf follows them to yoga class.




SCENE
cont'd
The three friends are still stuck without a song. Just then, Big Bird remembers what his Granny Bird said: "You're a bird, and birds always have a song in their heart." Big Bird throws open his beak and lets a song come out, and the others join him in a rendition of a great song about 3.

SCENE
cont'd
Once their song is finished, an eager young lad stops by and asks to join them. Uh-oh ... now they need a song for four!

Song
"Count Me In"
(First: Episode 3738)

Celebrity
Charles Gibson is in a predicament: where are his glasses?

Animation
What's behind the door? The clay cavemen try to find out in a number of different ways.

Muppets / Celebrity
Sugarland and Elmo sing "Songs."

Animation
Musicians in a painting learn to cooperate to play music.
(First: Episode 3460)

Muppets
Bernie Broccoli guesses Anthony's favorite vegetable.
(First: Episode 4117)

Muppets
The singing vegetables do a hip-hop song, "Eat Your Vegetables," over footage of people eating veggies.

Muppets
The Letter of the Day: T
Cookie Monster looks intently for cookies, although Prairie Dawn assures him that there are none in the vicinity. He eventually comes to the same conclusion, but only after eating the letter "T."
(First: Episode 4063)

Cartoon
T for tiger, teapot, television, and taxi.
Artist: Bill Davis
(First: Episode 3262)

Film
T for Triangle
(First: Episode 3271)




Insert
Telly Monster rushes over to Hooper's Store, asking Alan to turn the TV on so he can watch "TriangleBob TrianglePants" on Triangleodeon. Alan finds the program surprisingly amusing.
(First: Episode 4079)

Song
"I Put My Leg in My Pants"
(First: Episode 3402)

Muppets
The Number of the Day: 3
In his bedroom, The Count counts two sheep and an elephant in sheep's clothing, which add up to 3 sheep. He dances along with them, because "Who wants to sleep anyway?"
(First: Episode 4059)

Animation
Three fish
(First: Episode 2792)

Film
Three kids dance in three columns.
(First: Episode 3167)

Muppets
Ernie and Bert: Bert is trying to read his book when Ernie starts singing a song about addition. As Ernie sings, he's joined by Cookie Monster and Grover, some cows, an elephant, and a Martian. At the end of the song, Ernie leaves Bert with a room full of singing monsters and animals.
(First: Episode 3846)

Cartoon
"The Room is Full of Chickens"
(First: Episode 2971)

Muppets
Elmo's World: Singing
(First: Episode 3851)




Insert
At night, Telly reads a bedtime story to his triangle, which includes the sponsors.
Notes
Sesame Street: A Celebration - 40 Years of Life on the Street gives some insight into the production of this episode. Caroll Spinney and Kevin Clash had originally prerecorded the song "One and One Make Two" a few days prior to filming, but Clash decided on-set to have Elmo sing live instead. Spinney, who couldn't easily sing live while performing Big Bird, stuck with his prerecorded vocal.
The episode was titled "All for a Song" when released on YouTube.
Sources
Gikow, Louise Sesame Street: A Celebration - 40 Years of Life on the Street, pages 88, 129