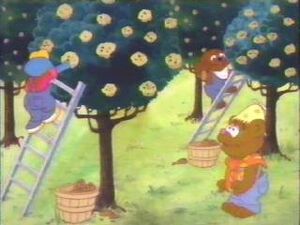 The babies try to figure out where muffins come from.
Plot
Bunsen and Beaker are over, and play a Twister-like game until Animal eats the playing mat. Afterward, the Muppet Babies walk to the kitchen for a snack, but Nanny's tin of blueberry muffins is empty.
They imagine themselves in a gigantic supermarket, depending primarily upon Bunsen's Plutonium-powered shopping cart for transportation until they crash into the produce section. Walking on foot, they eventually do find muffins in the bakery section, but a horde of superhero giants run up and take them away.
Abandoning the supermarket idea, Kermit suggests that muffins could instead come from a farm, and as such the characters imagine themselves in this new surrounding. The characters pick muffins off of trees and have them packed with Bunsen's equipment. Unfortunately, Fozzie plants birdseed instead of muffin seed, and chaos ensues until the scene returns to the nursery.
Scooter suggests rationally that muffins need to be made from separate ingredients such as eggs. Imagining themselves in yet another situation, the characters are taken to Colonel Gonzo's Egg Emporium to witness egg picking and packaging. Bunsen demonstrates his square egg-making machinery, but unfortunately Beaker falls into the machine.
Afterward, Fozzie imagines himself as a baker preparing muffins, but he is forced to substitute "silly gooseberries" for blueberries. This new ingredient, in turn, causes the batter to take on a mind of its own.
As the episode concludes, Nanny presents the babies with a plate of muffins.
Characters
Muppet Babies: Baby Kermit, Baby Piggy, Baby Fozzie, Baby Gonzo, Baby Rowlf, Baby Scooter, Baby Skeeter, Baby Animal
Supporting Characters: Nanny, Baby Bunsen, Baby Beaker