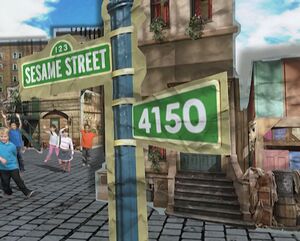 Picture
Segment
Description

COLD OPEN
"What's the Word on the Street?" -- windy




SCENE
Gordon welcomes the viewer to Sesame Street. He has set up a miniature golf course, to prepare for the golf game he'll have with Alan later on. Telly stops by, and is impressed with the setup. Gordon shows Telly how the game is played, and explains that the game isn't always easy, because the grass often has hills, which make it harder for the ball to make it into the hole. Telly gets a sudden burst of inspiration, and rushes off.




SCENE
cont'd
Telly has come back with a pillow he borrowed from Maria. He places the pillow underneath the "grass," to simulate a real hill on a golf course. Telly's previous ideas for hill substitutes included a turkey sandwich and a basketball, which didn't work as well. Gordon observes that now the game is now a little harder because of the hill, as the ball rolls down back to him on his first few strokes. On the fourth stroke, he makes it! Telly congratulates Gordon, pointing out that since he's practiced on both flat and hilly surfaces, he's really ready for the golf game, but Gordon disagrees: golf games also have water hazards, like ponds. With another sudden burst of inspiration, Telly suddenly rushes off.

SCENE
cont'd
Telly has now brought back a wading pool which he borrowed from Ernie and Bert. Telly believes it makes a better pond simulator than a steam-shovel-dug hole in the ground, or a small bucket. It is now harder for Gordon to get a hole in one.




SCENE
cont'd
Elmo and Rosita stop by to watch the game, and they all cheer when the ball makes it. Telly wishes Gordon good luck, but Gordon stops himself from mentioning another obstacle: the sand traps. Telly rushes off, inspired yet again.

SCENE
cont'd
Telly has commissioned some kids to pour buckets of sand on the growing simulation golf course. By now, three spectators, a monster, an Anything Muppet and Lou Berger, have entered the scene. On the first two strokes, the ball goes over the hill, but ends up in the sand. The third stroke is a hole in one, and the crowd goes wild!

SCENE
cont'd
Alan shows up, and is impressed by the setup. He tells Gordon that he heard a forecast of windy weather on the weather report. What does Telly do this time? He runs off!




SCENE
cont'd
By now the crowd has expanded to include Big Bird, Zoe, and several other kids and monsters. Telly, now in sportscaster getup, covers the last part of the golf game. To simulate a windy day, Telly has added an electric fan to the course. Before Gordon strokes, a Scotsman gives him a wider golf club.




SCENE
cont'd
Just as Gordon hits the ball, Telly turns on the fan, which scatters the golf course and its spectators ... but surprisingly makes the ball reach the hole! Alan and Gordon leave for their golf game, and everyone waves goodbye.




SCENE
cont'd
Elmo giggles, because he liked it when Telly made it windy. Since they are both standing next to the fan, Telly gets inspired and ... *flick!*

Animation
A rabbit hides from the windy, rainy weather until it becomes spring.

Muppets
Bip Bipadotta sings about "Air."
(First: Episode 2568)

Cast
Gina demonstrates what it's like when it gets windy.

Film
Coverage of a spring kite-flying festival, where both kids and grownups can participate.
(First: Episode 3276)

Muppets
The Letter of the Day: B
Cookie Monster and his mother talk about the letter B. Cookie's mother tries to get her son not to eat it, but gives into temptation. ("What the hey? KOWABUNGA!")
(First: Episode 4025)

Animation
B for Boat
(First: Episode 4058)

Muppets / Celebrity
The Dixie Chicks sing "No Letter Better Than B" with the help of Big Bird, Bert, Baby Bear, The Count and his bats, some chickens and another bird.
(First: Episode 3996)

Cartoon
A girl practices to roller skate over many days.
(First: Episode 3556)

Muppets
Ernie & Bert — Bert is reading a book about air, and tells Ernie that air moves things. Ernie decides to verify that with his electric fan, which blows Bert's book away - so that Bert can play baseball with Ernie.
(First: Episode 3552)

Song
"Play Ball!" Come on y'all!
(First: Episode 4083)

Muppets
Hero Guy
Baby Bear wants to have a Flying Adventure in the Sky with Hero Guy, but he can't fly by himself.
(First: Episode 3989)

Song
"I'm a Little Airplane"
(First: Episode 3266)

Muppets
Grover the Flight Attendant: Mr. Johnson is cold, and wants something warm. Grover suggests exercise, grabs him out of his seat and starts bouncing him around, which bothers a nearby passenger. Next, Grover gives Mr. Johnson a big hug, which doesn't work either. What Johnson really wants is a blanket, so Grover looks in the overhead luggage container, letting everything in it fall out and cover up Mr. Johnson.
(First: Episode 3103)

Animation
In a Van Gogh painting, a baby takes its first steps to Papa.
(First: Episode 3492)

Song
"Walk!"
(First: Episode 3830)

Muppets
The Number of the Day: 18
A jumping number 18 arrives as the Number of the Day.
(First: Episode 3993)

Cartoon
Suzie Kabloozie: Judge #18
(First: Episode 3877)

Film
Kid mural painting #18.
(First: Episode 3582)

Muppets
Elmo's World: Weather
(First: Episode 3984)




Insert
Abby Cadabby remembers the sponsors by displaying clips of previous segments in the show.
Alterations
Picture
Segment
Description

Film
A boy likes to make model airplanes in various forms.
(First: Episode 3902)
This segment replaced "I'm a Little Airplane" in the online streaming versions.
Community content is available under
CC-BY-SA
unless otherwise noted.