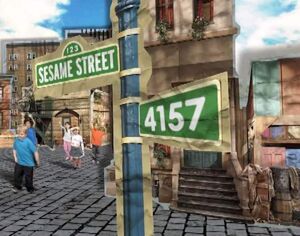 Picture
Segment
Description

COLD OPEN
"What's the Word on the Street?" -- pretend




SCENE
Abby Cadabby looks for Elmo, and introduces the viewer to her toy frog, Prince. When Elmo sees it, he doesn't understand how a frog could be a Prince, until Abby explains he was a prince that got turned into a frog. She kisses the frog doll, and POOF! it turns into a prince doll (and vice versa).

SCENE
cont'd
Elmo thinks Abby's trick is so cool that he asks Abby to kiss his cheek to see if he will turn into a frog. Although Elmo doesn't turn into a real frog, he pretends to be one. Abby doesn't understand how Elmo can be red, have fur, and still be a frog. Elmo realizes that Abby doesn't know the meaning of "making believe," so he and Abby decide to do it together.




SCENE
cont'd
The first thing Abby wants to pretend to be is a chicken, so she and Elmo make believe it by clucking, pecking, and flapping their wings. Abby gets so excited about it that she floats up in the air, attracting the attention of a real chicken, who joins them.

SCENE
cont'd
When Elmo points out to the chicken that she doesn't have to pretend she's a chicken, they decide to pretend to be something else. The chicken has always wanted to be a cow, so they all moo and pretend they have horns, which attracts the attention of Gladys.




SCENE
cont'd
Gladys joins them in their make-believe game, as they all pretend they're cars. Soon, Gordon comes along, and they all pretend to be him by repeating everything he says.




SCENE
cont'd
Gordon sings a song about "Making Believe," summarizing the episode's theme. An excited Abby calls her mommy to tell her what she learned today, and leaves to go home.

Film
Kids pretend to be animals.
Music: Joe Raposo (instrumental of "Look a Little Closer")
Film only: (First: Episode 4004)

Celebrity
Meredith Vieira likes to pretend to be a train.

Animation
Kids see different objects in the clouds, including a train, a drum and a tiger.
(First: Episode 4009)

Muppets
The Letter of the Day: Z
Prairie Dawn decides to give Cookie Monster a plate of cookies so he doesn't eat the letter Z, but alas, as Prairie lectures, Cookie Monster eats all the cookies and then proceeds to eat the Z.
(First: Episode 4082)

Animation
The Letter Z in various typefaces.
(First: Episode 2855)

Film
Kid jungle explorers sight a wild Letter Z.
(First: Episode 3496)

Muppets / Celebrity
John Legend sings "It Feels Good When You Sing a Song" with Hoots.
(First: Episode 4109)

Animation
A jazz band comes together to play the same notes.

Muppets
The Number of the Day: 10


A talking number ten appears after The Count reveals that 10 is the number of the day. "Finally the ten-sion is broken!"
(First: Episode 4005)

Song
Counting 10 flowers
(First: Episode 4057)

Animation
A butterfly has fun with 10 flower petals.
Artist: Misseri Studio
(First: Episode 4022)

Muppets
Abby sings "Kids with Wings."

Cartoon
Campers don't want to play ring toss with Zork, until their counselor reminds them about being judgmental.
(First: Episode 2761)




Muppets
Dinner Theatre: "Pear"
A hippie father prepares his family a series of pear dishes, and they all sing in praise of the green fruit.

Film
A Puerto Rican family get-together includes cooking, playing soccer, and finally the big dinner.
(First: Episode 3081)

Cast
Luis, Miles and Elmo play music with spoons (cucharas).

Film
Kids play "Twinkle Twinkle" on bucket, glass, and a broiler pan.
(First: Episode 3950)

Muppets
Ernie & Bert — Ernie can't sleep, because he's afraid of dark shadows and spooky things. Bert comforts him, and the two sing "Imagination" before falling asleep.
(First: Episode 3820)

Cartoon
A girl thinks she hears a monster doing a cha-cha outside her window, but it's only the wind and crickets. Her snores frighten the real monster.
Artist: Deanna Morse
(First: Episode 2951)

Muppets
Elmo's World: Cameras
(First: Episode 4108)




Muppets
Oscar's Trashtime Band plays as he announces the sponsors.
Alterations