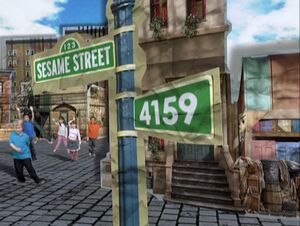 Picture
Segment
Description

COLD OPEN
"What's the Word on the Street?" -- angry




SCENE
Rosita and Zoe are both excited about their play date together. As they start to play hide-and-seek, Abby Cadabby poofs up out of nowhere. Rosita is about to show Abby how they play hide-and-seek, but Abby mentions another game, "Jumping Rhymes", which piques Zoe's interests. Zoe and Abby are good at the game, but Rosita has trouble thinking of words that rhyme with "chair," and can only think of made-up words (which are acceptable).




SCENE
cont'd
Rosita insists they play hide-and-seek next, and tells Abby how to play it. Zoe and Abby hide while Rosita counts. While they hide, Abby is impressed by Zoe's tutu, and asks Zoe to teach her how to dance ballet. Rosita finishes counting and is about to look for them, when she encounters them both dancing ballet instead of hiding. She runs off, frustrated and angry.




SCENE
cont'd
Meanwhile, at the Fix-It Shop, an anxious rabbit desperately needs his teapot fixed for a tea party. He realizes he's late, and runs off. Just then, Rosita shows up and tells Maria and Gabi how angry she feels at Zoe and Abby. Maria tells her to take a deep breath, which helps a little.

SCENE
cont'd
Zoe and Abby catch up with Rosita and ask her what happened. Rosita is so angry she can only express her feelings in Spanish at first, but Zoe realizes how angry she is. They reassure her that they do want to play with her, even though they got distracted by ballet earlier. They all agree to take turns choosing what to play, and Rosita asks for her turn to choose hide-and-seek. They're all friends again!

SCENE
cont'd
The monsters (and fairy) run off to play hide-and-seek, but the rabbit comes back to remind Maria and Gabi that they have a teapot to fix ...

Song
"Siéntate"
Alain Le Lait, Songs for Teaching
English version -- (First: Episode 4135)
cut from the online version

Celebrity
Cuba Gooding, Jr. gets angry when the pesky word won't stay in place for him to talk about it.

Cartoon
"Angry Annie": A small girl vents her rage at the world, frustrated by the problems of everyday life, until her younger brother offers her part of his orange.
Re-rendered background, underscore added
Artist: John Korty
(First: Episode 2087)

Muppets / Celebrity
Dr. Phil and Dr. Feel both appear on the set at the same time, arguing over which one of their shows is currently starting. Eventually, they compromise, and host "The Dr. Phil and Dr. Feel Show".
(First: Episode 4077)

Cartoon
A mouse sings "Felines," a song about emotions, to the tune of "Feelings."
(First: Episode 3278)

Muppets
The Letter of the Day Games: D


Cookie Monster finds a "doggie," daisies, and a drowsy Prairie Dawn in one minute.
(First: Episode 4083)

Song
"Big D and Little D"
(First: Episode 3270)

Animation
D / d (drums and drumsticks)
(EKA: Episode 2326)

Muppets
To a hip-hop beat, Elmo plays a game of "Elmo Says" with the viewer.

Film
A dance class does some stretching exercises, then dance in their own ways, ending with the tango (instrumental: "Naughty Door Opera").
(First: Episode 3022)

Muppets
The Number of the Day: 17
A singing Muppet 17 shows up after learning that the number of the day is 17.
(First: Episode 3984)

Animation
Ornate 17s swing by.
(First: Episode 3319)

Animation
"Lucky Number 17"

Muppets / Celebrity
Percussionist Evelyn Glennie asks Oscar the Grouch if she can join his Grouchketeer band. She demonstrates her percussion skills on her drums, trash can lids, and the Grouchketeers' heads. Oscar and the Grouchketeers are impressed.
(First: Episode 3943)

Cartoon
"I Have a Purple Bucket"
(First: Episode 3467)

Muppets
Ernie and Bert: "That's What Friends Are For": Ernie sings to Bert about friends being tolerant of each other's differences, while Bert just wants to sleep.
(EKA: Episode 2073)

Animation
A red insect wants to play with some green insects.
(First: Episode 4127)

Muppets
Elmo's World: Friends
(First: Episode 4109)

Insert
Abby announces the sponsors, and thinks it's magical that the numbers 1 and 7 make the number 17.
Alterations
Picture
Segment
Description

Film
"Play Ball Song" - Children are shown being active while having fun playing with age-appropriate balls.
(First: Episode 4083)
This segment replaced the "Siéntate" segment in online releases.
Notes
Community content is available under
CC-BY-SA
unless otherwise noted.