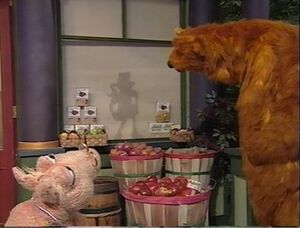 It's Grandma Flutter's 100th birthday. Bear and the kids of the Big Blue House take some time to reflect on aging and all of the experiences that life has to offer. Ojo, Treelo, Pip and Pop work to decorate the house and prepare for the party, but Tutter still needs to pick out a gift for her. Bear takes him to the General Store, but he's not sure exactly what to buy her. While at the General Store, Tutter learns about some of the wonderful things that his Grandma has done in her life. As he hears more and more, he becomes overwhelmed, until Bear helps him to see how he can work it all into a perfect gift. Bear also plays a game of chess with Doc Hogg. He's not very good, but Doc Hogg helps him to see that he has a lot of time to learn.
Songs
Notes
This episode also appears in online listings "Granny Flutter's Birthday."
Doc Hogg sings Shadow's song. Additionally, a bit of "Happy Happy Birthday" can be heard in this episode.
Some of the experiences of Grandma Flutter's life include playing baseball (disguised with a moustache) for the River City Rodents, starting a women's baseball league, starring in the play Ain't Mouse Behavin', meeting the Dalai Llama (he spits) and being a steamboat captain.
This is the fourth episode relating to a character's birthday on the show.
Gallery
Community content is available under
CC-BY-SA
unless otherwise noted.