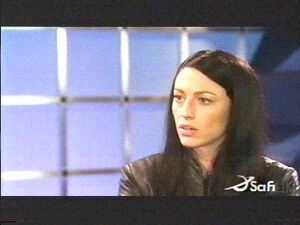 Crichton watches a tape of an Earth TV show documenting the world's reactions to meeting the Moya crew.
Guest Stars
Nick Tate (R. Wilson Monroe), Tyler Coppin (Sheriff Robert Schelmacher), Joshua Anderson (Bobby Coleman), Sarah Enright (Olivia Crichton), Nicholas Hammond (Dr. Adrian Walker), Michael Barnacoat (Major General Stephen Walcott), Leo Christopher, Dee Donavan (Reverend Nathan Buckley)
Notes
Writer David Kemper appears as a high level administrative source (with face blacked out), and Brian Henson plays Dr. Edmund Johnston.
Community content is available under
CC-BY-SA
unless otherwise noted.