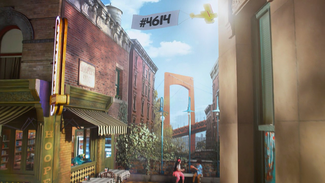 Picture
Segment
Description

COLD OPEN
Elmo tells the viewer about friends.




SCENE
Chris tries to welcome the viewer as Big Bird rushes back and forth in front of him. He explains his pen pal, Penelope Penguin, is visiting today. Penelope arrives and greets Big Bird with a strong hug. She does the same for Chris. Mrs. Crustworthy stops by, but quickly runs off after being hugged by Penelope, who's used to that happening. Chris explains that Penelope should find a simpler way of greeting people and offers a suggestion - a penguin pound, which Penelope likes.




SCENE cont'd
In the arbor, Penelope tries her penguin pound on Elmo, Telly and Rosita, who invite her to play basketball. They pass it to her, but instead of passing it back to Elmo, she dunks the ball on her own; the monsters aren't pleased. Chris points out she needs to be more of a team player and offers a strategy to help control herself - stop and think about how her actions affect others. She is given the ball again and after stopping and thinking, shares it with the others. Chris thinks some celebratory ice cream can be arranged.




SCENE cont'd
At Hooper's Store, Chris gives everyone a cone. Penelope loves fish on her ice cream and gives the rest some as well (to their disgust). She gets caught up in her own excitement she eats everyone's ice cream as well. They leave, unhappy and Penelope gets upset that she'll never make a friend. Chris takes her aside and reminds her, in song, she needs to "Stop and Think" when trying to make friends.

SCENE cont'd
Penelope finds the gang and apologizes for her behavior, stating she's working on controlling herself. They all understand, having been overly enthusiastic themselves from time to time. Chris brings them replacement ice creams and Penelope keeps the fish to herself.




Muppets
Elmo and the gang introduce the letter of the day, F, with a song and dance.
(First: Episode 4525)

Muppets / Celebrity
Gwen Stefani and her furry, feathered pals sing about how to "Be a Good Friend."




Muppets
In a News Flash, Murray reports on "Friendship Day" and covers what it means to be a friend. (all three parts combined into one)
(First: Episode 4505)

Muppets
Count von Count and friends sing and stomp to find the number of the day - 2.
(First: Episode 4502)

Muppets
Elmo's World: Friends (HD re-edit)
(First: Episode 4109)

Outro (PBS)
Cookie Monster instructs the viewer on "the art of cookie eating", with aid from Rosita and a girl.
Community content is available under
CC-BY-SA
unless otherwise noted.