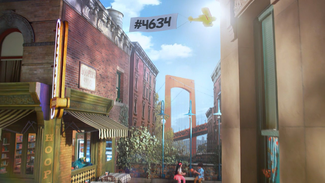 Picture
Segment
Description

COLD OPEN
Grover prepares his backpack for school, but finds it's too heavy to lift.




SCENE
Elmo notices somebody pushing a blackboard just outside Hooper's Store, so he and Chris go to investigate. Outside, they meet the man - Professor Buck Awe (Taran Killam) - who has set up "Professor Buck Awe's School for Clucks", the first (and only) free range chicken school. He proudly sings the school song just as the school bell rings.




SCENE cont'd
The chickens arrive for school and Elmo wishes he could join. Buck Awe invites him to stay the day and "learn like a chicken," so Elmo fetches his chicken outfit and sits in with the class. Buck Awe begins school, but finds the chickens don't listen to him (and thinks their clucking is repeating his name over and over). Elmo points out he learned a special way to listen at his pre-school - listening with your whole body. Elmo sings a song to the chickens ("How Do We Listen") to show them how to use more than just their ears to listen. The chickens get the message and pipe down so Buck Awe can be heard.

SCENE cont'd
Next, Buck asks which of his pupils can say the alphabet. The chickens all cluck at once, but Buck can't understand any of them. Chris suggests they raise their hands, prompting another song from Elmo ("Raise Your Hand"). Buck adjusts the song, so it says "Raise Your Wing." The chickens begin following the new rule.




SCENE cont'd
Now, it's snack time and Buck has some crackers and skim milk. The chickens all ambush him, however. Elmo steps up with another song - "Stand in Line" - showing the chickens how to wait their turn for a snack. Afterward, Buck is ready to begin his alphabet lesson, but the ending bell rings and school is dismissed. Buck is upset he didn't get to teach anything today, until Chris and Elmo point out all the important school rules they learned. Buck is so grateful, he decides to re-open the school under a new name - "Professor Buck Awe and Professor Elmo's School for Clucks," giving Elmo a special new hat.




Muppets
Elmo and the gang introduce the letter of the day, S, with a song and dance.
(First: Episode 4514)
New audio is added at the end, with Elmo stating "S" is for "school."

Song
"S is for School": Two animated characters sing about school.
Artist: Tony Dusko




Muppets
Murray Has a Little Lamb
Ovejita leads Murray to a different kind of school today - pre-school! At school, Murray learns some school info from the teachers and students, including the special centers of the classroom, including the block center, art center and dramatic play center. Over in the discovery center, Murray and the kids observe a newly hatched butterfly. Murray washes up before snack time. He's then informed he'll be the snack helper, who sets out the napkins and cups. Now, they all dig into their snacks. (all three parts combined into one)
(First: Episode 4515)

Muppets
Count von Count and friends sing and stomp to find the number of the day - 4.
(First: Episode 4501)

Animation
Four chicks group and dance at a party.
(First: Episode 4501)

Muppets
Elmo's World: School (HD re-edit)
(First: Episode 4093)

Outro (PBS)
Cookie Monster, Rosita and a girl dance fast and slow.
Community content is available under
CC-BY-SA
unless otherwise noted.