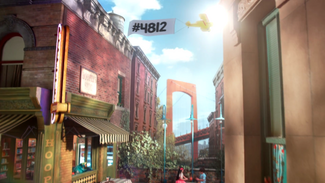 Picture
Segment
Description

COLD OPEN
Elmo sets up today's theme of hair, which his monster friend Marty loudly declares over and over.

SCENE 1
Prairie Dawn and her friend Gabrielle are making up a new dance together. When Prairie proposes a move where they whip their hair back and forth, Gabrielle notices her hair can't move the way Prairie's does. They run off to find Nina, who might be able to fix the problem.

SCENE 1 cont'd
Nina tries doing Prairie's hair in poofs like Gabrielle's but finds her hair can't work like that. They think their dance will be ruined, but Nina encourages them to keep both hair movements in the dance.




SCENE 1 cont'd
The girls continue practicing, attracting Elmo's attention. He finds he doesn't have hair but tries to remedy that with a mop-top wig. It immediately flies off his head and onto Cookie Monster's plate. He eats it, assuming it's pasta. The girls tell Elmo he can still dance, just allowing his fur to move as it can.

SCENE 1 cont'd
Big Bird sees them all practicing and wonders if he can join, even though he doesn't have hair or fur. He shows off how he can shake his tail feathers, which makes a perfect addition to their dance. Prairie jumps at his suggestion to put on a show for the neighborhood, and Nina asks to join as well.

SCENE 1 cont'd
In front of a crowd of kids, monsters and more, the gang performs a 60s-style song and dance about how much they love their "Hair, Feathers and Fur."

Muppets / Film
Kindness Cam
Elmo replays a scene from the street story, then shows a similar situation with real-life kids.




Muppets
Abby Cadabby leads the gang in a song to introduce the letter of the day - H.
(First: Episode 4729)

Film
H is for Hair: Helena, Harjit, Hayley, Henry and Hannah talk about their hair (even though Hannah has lost hers due to her medical recovery).

Muppets
"I Love My Hair" (alternate music track, sections cut and new video effects added)
(First: Episode 4218)




Muppets
Cookie Monster's Foodie Truck
A young girl orders some angel hair pasta with vegetables. Cookie Monster initially thinks it's made of actual hair, until Gonger brings up the recipe. Cookie has already eaten all of their pasta noodles (naturally), so they set out to the pasta factory to see how more gets made and bring some back to cook.

Muppets
Count von Count and friends sing and stomp to find the number of the day - 7.
(First: Episode 4510)

Cartoon
A barber cuts the hair of 7 customers.

Muppets
Elmo's World: Hair

SCENE 2
Prairie and Gabrielle continue to practice their dance as they sign off.

Outro (PBS)
Cookie Monster, Rosita and a girl dance fast and slow.