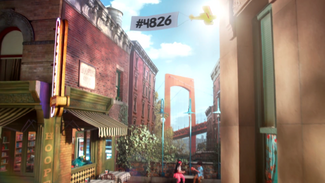 Picture
Segment
Description

COLD OPEN
Big Bird tells the viewer that today's show is all about grandparents and is visited by Granny Bird. She's knitted him a sweater that unfortunately shrunk in the wash, but makes a perfect fit for Radar.




SCENE 1
Hooper's Store is throwing a special party for kids and their grandparents in the arbor. Elmo tells Chris and Alan how excited he is to see his grandma and grandpa, as he hasn't seen them in a long time (and they live far away). Elmo leads Rosita, Baby Bear and the rest of the party in a song in praise of the grandparents.

SCENE 1 cont'd
After the song, Chris calls Elmo over with some bad news - the flight his grandparents were going in on was cancelled and they won't be arriving until tomorrow, when the celebration will be over. Elmo is saddened, but is suddenly pulled away by Baby Bear.

SCENE 1 cont'd
Elmo is still upset his grandparents aren't coming, but tries to replace them by having Alan and Chris dress like them (as well as do their voices correctly). Rosita drags him off too, and Alan and Chris go change (though Chris finds himself enjoying the dress).

SCENE 1 cont'd
Rosita introduces Elmo to her abuela, who sings a traditional Mexican song with them. They suddenly hear a strange beeping...




SCENE 1 cont'd
...coming from Grampy Bear's laptop, which he doesn't know how to fix. Chris gets an idea and borrows it. He calls over Elmo, having set up a video chat with his grandparents. They apologize for their absence and Elmo begins introducing them to all his friends.




Muppets
Abby Cadabby leads the gang in a song to introduce the letter of the day - G.
(First: Episode 4716)




Film
G is for Grandparents - A young boy talks about his grandmother.

Cartoon
A girl asks the musical question, "What is a Family?"
(First: Episode 4415)




Muppets
Cookie Monster's Foodie Truck
The Monster Foodies get an order from Gonger's grandmother, who needs some buttermilk biscuits for the neighborhood bake sale. Cookie Monster and Gonger have all they need, except the secret ingredient - honey. They venture to the bee farm and learn how honey gets harvested and bottled.

Muppets
Cookie Monster and friends sing as they wait for the number of the day, which is how many cookies are being baked for him (to eat). Today's number is 8.
(First: Episode 4730)
In this airing, the Count counts the individual cookies.

Film
A girl's family of 8 assembles for a family photo.
(First: Episode 4407)

Muppets
The Count sings "Eight is Great."
(First: Episode 4226)

Muppets
Elmo's World: Grandparents

SCENE 2
Big Bird signs off, but can't find Granny Bird anywhere. She surprises him by appearing from the nest.

Outro (PBS)
Cookie Monster instructs the viewer on "the art of cookie eating", with aid from Rosita and a girl.
Community content is available under
CC-BY-SA
unless otherwise noted.