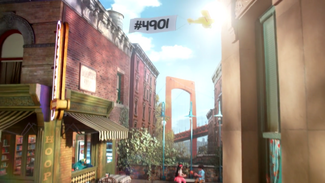 Picture
Segment
Description

COLD OPEN
Big Bird sets up today's theme of veterinarians. A dog-tor appears, thinking the job of "animal doctor" means an animal who's a doctor.




SCENE 1
Elmo, Abby and Nina come across Oscar, who notes how unusual Slimey is acting today. He phones his veterinarian, Dr. Birdwhistle (Tiffany Haddish), who rushes right over. She tells Elmo and Abby about her job as she inspects Slimey. She diagnoses him with a sore throat and prescribes some Wormatessin. Elmo and Abby learn about different types of vets, such as pet vets or farm vets, and decide to become vets right now.

SCENE 1 cont'd
Elmo and Abby set up the play clinic in the arbor and sing about being vets, backed up by some animals. Elmo takes the role of pet vet, while Abby intends to deal with farm animals. Dr. Birdwhistle sees she has some competition in the neighborhood and leaves to tend to her next patient.




SCENE 1 cont'd
Elmo's first patient is a (stuffed) rabbit, Bunnytini. Elmo gives her a check-up (similar to Dr. Birdwhistle's for Slimey). Abby notes that Elmo deals with such small, cute animals, while she has a large (stuffed) sheep to cure.




SCENE 1 cont'd
Elmo tries to prove he can handle large pets too by calling over big dog Clyde and (pretend) fixes his un-wagging tail. In response, Abby waves her wand and brings up Gladys the Cow, who needs her hoof looked at after trying to jump over the moon.

SCENE 1 cont'd
Elmo brings over the biggest creature he can find - Snuffy! He pretends to have various issues, which Elmo finds difficult to keep up with. He asks Abby for some help and the two vets work together to help Snuffy.

Muppets / Film
Plan the Play
Elmo replays scenes from the story, then shows kids pretending to be vets themselves.




Muppets
Abby Cadabby leads the gang in a song to introduce the letter of the day - V.
(First: Episode 4819)

Film
V is for Veterinarian: A boy details the inner workings of a veterinarian's clinic.

Cartoon
Abby's Amazing Adventures
Basket takes Abby and Rudy to an African plain. They pretend they're veterinarians and give a baby elephant a check-up.

Muppets
Cookie Monster and friends sing as they wait for the number of the day, which is how many cookies are being baked for him (to eat). Today's number is 10.
(First: Episode 4718)
In this airing, the Count counts the individual cookies.

Muppets
Elmo's World: Dog Walkers

SCENE 2
Abby, still playing vet, observes that Slimey is feeling better.
Notes
The title is a parody of the "Jets Song" (aka "When You're a Jet") from West Side Story.