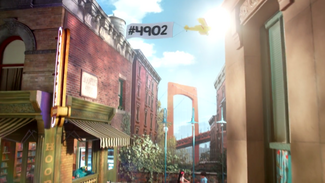 Picture
Segment
Description




COLD OPEN
To set up today's theme of photographers, Ernie takes a photo of Big Bird and Bert, though he cuts off most of Bert's head.




SCENE 1
Alan has a special surprise for Abby, Rosita and Elmo - a bunch of his old cameras (a digital camera, a cellphone camera and an instant camera). He describes the job of a photographer and the different varieties there are, including sports photographers, event photographers and fashion photographers. The young ones are all eager to take some pictures and head off, having chosen a different type of photographer to be.




SCENE 1 cont'd
Rosita, armed with the cell phone, assumes the role of a sports photographer, but can't find any athletic activity around. Grover appears and puts on his athletic outfit to be her subject. He tries his famous gymnastics trick "the double fliparoo," but she misses the shot a couple of times. By following his movements with the camera, she's able to get a great action shot.

SCENE 1 cont'd
Abby has the digital camera and tries being an event photographer, but hasn't found any parties or celebrations around. She does take some photos of some typical happenings around the street while studying the different parts of the camera.




SCENE 1 cont'd
Elmo, with the instant camera, gets his chance to be a fashion photographer when he stumbles upon Telly overseeing a worm "underground fashion show." Elmo takes several pictures of the worms as they wiggle on the catwalk.

SCENE 1 cont'd
Elmo, Abby and Rosita show Alan the different photos they've taken. Abby feels discouraged that her photos aren't of any special events, but everyone loves them and Alan claims they're special moments that may not happen the same way again. Inspired by their photography skills, Alan pulls them all in for a selfie.

Muppets / Film
Plan the Play
Elmo shows a replay from the street story, inspiring a young girl to be a photographer too.




Muppets
Elmo and the gang introduce the letter of the day, P, with a song and dance.
(First: Episode 4511)

Film
P is for Pictures - Pilar and her uncle Miguel take travel photos around Los Angeles.

Cartoon
Abby's Amazing Adventures
Basket takes Abby and Rudy under the sea to be oceanic photographers. Their mission is snap a photo of a rare red moon fish.

Muppets
Count von Count and friends sing and stomp to find the number of the day - 5.
(First: Episode 4507)

Film
A boy takes photos of his 5 stuffed animals in a mock fashion show.

Cartoon
Five dogs and 5 dog bones (beginning edited)
Artist: Todd Parr
(First: Episode 4282)

Muppets
Elmo's World: Photographers

SCENE 2
The gang signs off, encouraging the viewer to try being a photographer too. They then start taking pictures of each other.




Outro (PBS)
Cookie Monster tells Rosita about the importance of running for exercise, and they have a race.
Community content is available under
CC-BY-SA
unless otherwise noted.