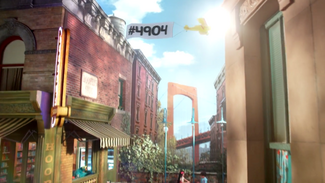 Picture
Segment
Description

COLD OPEN
Elmo and Snuffy introduce today's theme of dancing by doing a shake dance. Snuffy ends up knocking Elmo over with his snuffle.
(First: Episode 4708)

SCENE 1
Elmo and Gladys the Cow have come up with a new farm song together and sing it for the viewer. Prairie Dawn happens by with her new video camera, looking for something to shoot. Elmo proposes they make a music video for his song and Prairie immediately takes charge of the production.




SCENE 1 cont'd
Zoe, Rudy and other farm animals have joined the music video shoot. Prairie starts rolling, but all the extras stay put. Prairie goes for another take, asking them to do something other than standing around. The extras now all do various, random activities. Prairie finally directs them to dance during the song, which causes much commotion and causes the set to fall apart.




SCENE 1 cont'd
Nina checks out the scene and recommends they get a choreographer to plan out their dance so nobody gets in anyone else's way. Since Zoe loves dancing, she is given the job. She teaches them all some moves, which they then perform in their music video.




Muppets
Abby Cadabby leads the gang in a song to introduce the letter of the day - C.
(First: Episode 4718)

Film
C is for Choreographer - In song, a choreographer describes his job.

Animation
Kids explain their thoughts on dancing, which are illustrated through cut-out paper animations.
(First: Episode 4508)

Muppets / Celebrity
Elmo and his Sesame Street pals do their own versions of the Elmo's World "Happy Dance" with Allison Williams, Whoopi Goldberg, Miss Noodle (Ilana Glazer), Patton Oswalt, Zoë Kravitz, Bill Nye, Andy Grammer, Ellie Kemper, Keegan-Michael Key, Tiffany Haddish, Questlove, Jack Antonoff and Blake Lively.

Cartoon
Abby's Amazing Adventures
Abby and Rudy are taken to a talent show, where Abby choreographs a dance for the two to perform.

Muppets
Count von Count and friends sing and stomp to find the number of the day - 6.
(First: Episode 4509)

Film
Six dancers of all styles are counted in song.

Muppets
Elmo's World: Dancing
(First: Episode 4708)

SCENE 2
Zoe and Rudy sign off and encourage the viewer to try being a choreographer too. Rudy teaches Zoe a new dance he's come up with.

Outro (PBS)
Cookie Monster, Rosita and a girl dance fast and slow.
Community content is available under
CC-BY-SA
unless otherwise noted.