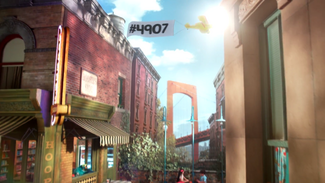 Picture
Segment
Description

COLD OPEN
Prairie Dawn sets up today's theme of holidays. Grover likes to celebrate "Wear a Bunny Slipper on Your Head Day."

SCENE 1
Everyone on the street sets up decorations for their New Year's Eve celebration as they sing about the occasion. Elmo in particular enjoys being able to stay up late, if he's physically able to.

SCENE 1 cont'd
Cookie Monster and the Count discuss the holiday, as Cookie confesses that he doesn't fully get the concept "counting down." When the Count mentions it's merely counting backwards, Cookie proceeds to count facing the opposite direction.

SCENE 1 cont'd
Elmo is already visibly tired, but wants to stay awake for the New Year. Rosita and Telly take up the mission of helping him stay awake long enough.

SCENE 1 cont'd
In Hooper's Store, Alan helps teach Cookie how counting down works with a tray of cookies. They count them down as Cookie eats the first couple one at time, before gobbling up the rest of the batch at once.

SCENE 1 cont'd
Rosita and Telly have made Elmo a special party hat covered in noisy objects to keep him awake, but they find it's too noisy to deal with. The two take turns in various schemes to keep Elmo awake, as he continuously falls asleep on them.




SCENE 1 cont'd
Telly and Rosita realize Elmo is now gone, when Nina points out he's been asleep in the community center for a while now. The monsters are disappointed that they failed their mission, but Nina tells them Elmo will understand. Everyone comes out to prepare for the countdown, including Elmo, who feels rested and had an alarm clock ready. They all count down to the new year and begin celebrating. Telly and Rosita immediately take a nap themselves.




Muppets
Elmo and the gang introduce the letter of the day, H, with a song and dance.
(First: Episode 4526)

Film
H is for Holiday: Kids talk about the many different holidays they celebrate.
This film first aired as a part of the PBS airings of Once Upon a Sesame Street Christmas.




Muppets
Cookie Monster's Foodie Truck
A young girl orders a birthday cake for a surprise birthday for her friend. After discovering they're out of eggs, the monsters road trip to a chicken farm to get more. Once the cake has been made, Cookie is ready to send it out, but the girl informs him the cake is for him, even though his birthday is next week - that's the surprise!
(First: Episode 4824)

Muppets
Cookie Monster and friends sing as they wait for the number of the day, which is how many cookies are being baked for him (to eat). Today's number is 6.
(First: Episode 4701)
In this airing, the Count counts the individual cookies.

Film
A young girl counts 6 in various ways at her 6th birthday party.
(First: Episode 4814)

Muppets
Elmo's World: Celebrations
(First: Episode 4814)

SCENE 2
Prairie still doesn't believe "Wear a Bunny Slipper on Your Head Day" is a real thing, until various animals appear already celebrating it.

Outro (PBS)
Cookie Monster, Rosita and a girl dance fast and slow.
Community content is available under
CC-BY-SA
unless otherwise noted.